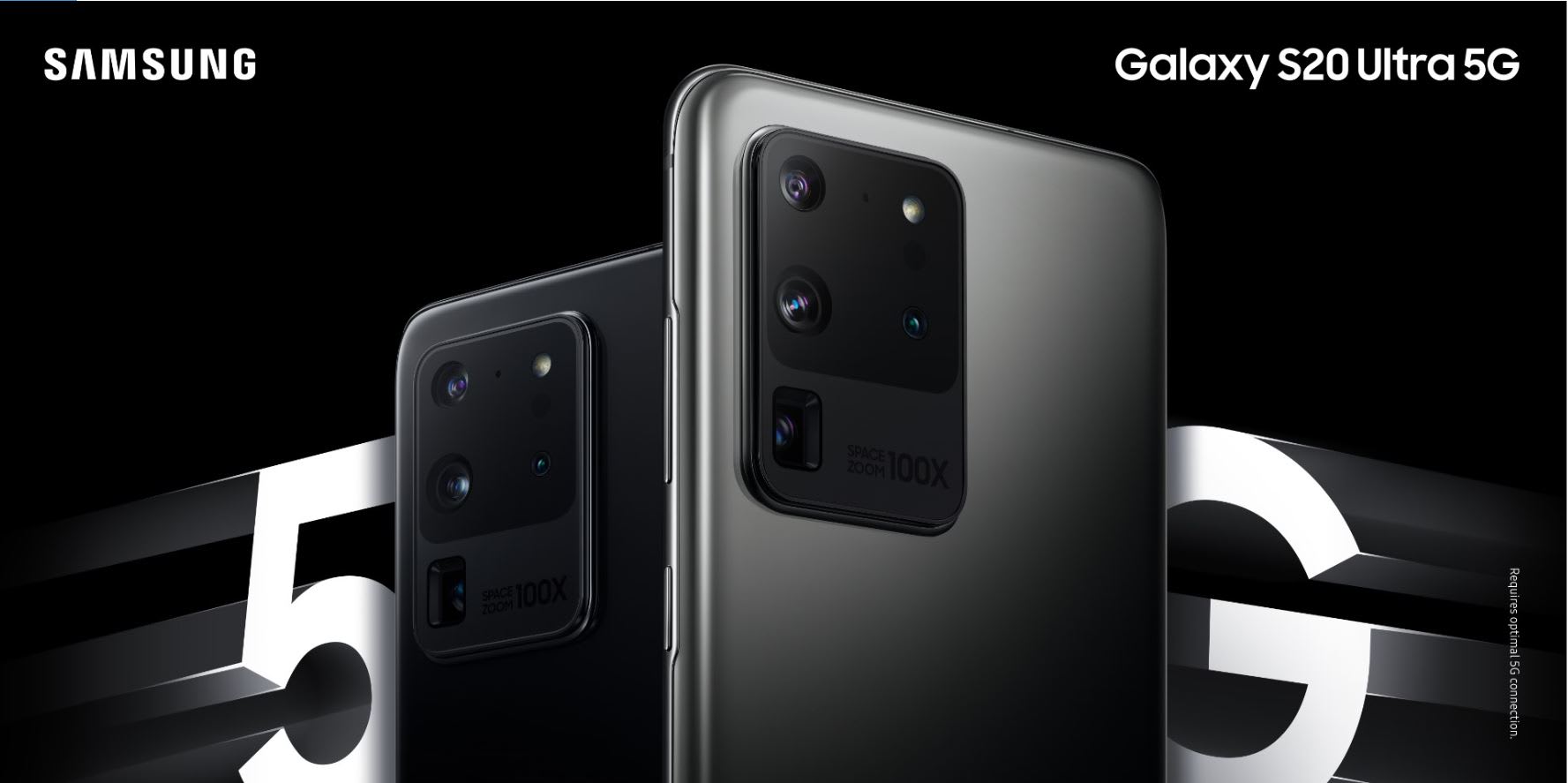 The Samsung Galaxy S20 ultra is one of the best Smartphones to buy in 2020. Samsung launched its flagship smartphone series, the Galaxy S20, globally at the start of this year. Unlike the standard and 'Plus' variants from every year, 2020 also had an 'Ultra' version of the Galaxy S20 lineup. True to its name, the Samsung Galaxy S20 Ultra came with a bunch of features that almost feel too extreme for the average smartphone. However, given the Galaxy S20 Ultra's price tag, you would expect the smartphone to come with outstanding features, and it does. Here's looking at five extreme features that make the Samsung Galaxy S20 Ultra a standout smartphone to buy in 2020.
Which phone should you buy in the Galaxy S20 series?
The Samsung Galaxy S20 series is a range of flagship smartphones. The Galaxy S20, like its elder siblings, is powered either by the Qualcomm Snapdragon 865 SoC in the USA or Samsung's own Exynos 990 SoC internationally and in UAE as well. Both the processors are manufactured using a 7nm+ fabrication node. In simpler terms, both processors offer a similar level of refinement in terms of performance, and efficiency in terms of power consumption. The Galaxy S20 comes with 8GB RAM and 128GB UFS 3.0 storage, the latter of which comes with fast read-in and read-out times to make the smartphone work swiftly than those with more basic storage platforms.
The display measures 6.2 inches in size, with 2K+ image resolution. In terms of the camera setup, one of the most impressive abilities of the Samsung Galaxy S20 series is the ability to take oversampled 8K videos. The Galaxy S20 can shoot 4K videos at 60fps and full HD videos at 240fps – something slow-motion enthusiasts will particularly love. This entire package is powered by a 4,000mAh battery with 25W fast charging. The key difference between the Galaxy S20 and Galaxy S20 plus lies in the overall screen size, the configuration of the rear camera and the battery as well. In terms of the screen size, the Samsung Galaxy S20 Plus features a 6.7-inch 2K+ resolution display, therefore being considerably larger than the standard Galaxy S20. In terms of battery life, the Galaxy S20 Plus features a larger, more powerful 4,500mAh battery pack to accommodate for the larger display area of the phone. The Galaxy S20 Ultra is the most powerful smartphone in this lineup and is primarily differentiated by its larger display size and the branding of 100x 'Space' Zoom on its rear camera.
Should you buy Galaxy S20 Plus or Ultra?
If you can spend the extra premium that the Galaxy S20 Ultra commands, it is a good idea to go for it. Not only does the Galaxy S20 Ultra come with outstanding features, but it also has the most value when compared with the S20 Plus. The Galaxy S20 Ultra has a larger 6.9″ AMOLED Quad HD+ display and a better battery life than the Galaxy S20 Plus. Moreover, while the Galaxy S20 Plus has a 12GB RAM only option, the Galaxy S20 Ultra has a 12GB as well as a 16GB RAM option. In terms of Camera, the Galaxy S20 Ultra comes inbuilt with superior camera configurations with a 108MP Wide lens, 12MP Ultra-wide, 48MP Telephoto as well as a DepthVision camera in the rear along with a 40MP front Camera. Also, while the Galaxy S20 Plus supports a 3x Hybrid optical zoom, the Galaxy S20 Ultra supports a 10x Hybrid optical zoom.
Samsung Galaxy S20 Ultra Key Specification.
| | |
| --- | --- |
| Display | 6.9″ Quad HD+ Dynamic AMOLED 2X Infinity-O Display |
| Processor | 2.73GHz, 2.5GHz, 2GHz Octa-Core Processor |
| RAM | 12GB/16GB |
| ROM | 128GB/512GB |
| Battery | 5000mAh |
| Dual sim | Yes, Hybrid (SIM or MicroSD) |
| Expandable memory | up to 1TB |
| Rear Camera | 12MP Ultra-wide + 108MP Wide-angle + 48MP Telephoto + DepthVision Camera |
| Front Camera | 40MP Camera |
| Fingerprint Sensor | In-screen |
| Headphone Jack | No |
| Supports 5G | Yes |
| Color | Cosmic Black, Cosmic Gray |
Here are the top 5 features of the Samsung Galaxy S20 Ultra
1

108MP camera with 8K video recording

Samsung took the megapixel game one notch higher with the Galaxy S20 Ultra. With a 108MP sensor, the Galaxy S20 Ultra features a unique technology called 'nona-binning' to create one pixel from nine smaller ones. This gives the Galaxy S20 Ultra's camera the greatest edge in terms of processing minute textures and details, even extreme ones. The added resolution also means higher quality digital zooms, and in this case, 8K video recording straight from the smartphone. What this essentially means is that you get smooth, 24fps videos in 8K, which you can then reduce to a 4K video while editing, thereby retaining the full scale of details that any videographer would want to capture. To further help videographers, the same camera configuration can capture 4K videos at two frame rates – 30fps and 60fps. Taking 4K videos at 60fps, in particular, is very useful since it can help videographers take high motion shots in 4K, and then reduce the speed by half to get slow-motion moving shots in 4K resolution itself. Further enhancing this feature while going down the track in terms of overall video resolution is the ability to shoot at 240fps when shooting in full HD.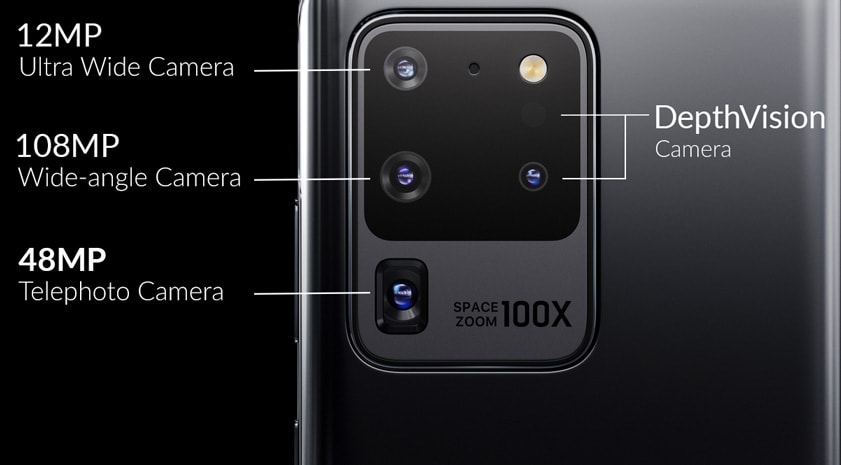 2

40MP selfie camera with slow motion front camera videos

The Galaxy S20 Ultra features a staggeringly high-resolution front camera, capable of taking selfies at 40MP. If you are still wondering what to do with all that detail in your selfies, the S20 Ultra takes things another notch higher – its front camera can essentially record full 4K videos at 60fps fast frame rate. What this means is that video bloggers can actually use the front camera to create more artistic video blogs. With video blogging becoming an increasingly followed profession, it is essential to note the presence of such a front camera.
3

100x 'Space' Zoom

One feature that made the headlines for the Galaxy S20 Ultra is its claim of '100x zoom', which sounds almost impossible for dedicated lenses too. However, Samsung used a 4x optical zoom lens, along with pixel binning, sensor cropping and its image processing algorithms to make its camera capable of capturing up to 100x zoom shots. The overall quality at such zoom lengths may not be the most pristine. Still, it can come really handy in situations such as watching a game live at a stadium. To be totally honest, this feature may mostly seem like a gimmick at first. However, fiddling around with the zoom capabilities of the Galaxy S20 Ultra reveal that the hybrid zoom range can actually be far more effective at a fraction of the 100x range. What Samsung lets you achieve is the chance of going up to 10x zoom range without terribly destroying all the details in one frame, which is what happens with its competitors. This is a massive benefit that the 108MP main image sensor presents. This can be particularly useful in a use case such as being the mobile device of choice for a nature photographer, who might need up to 10x zoom range to survey the surroundings.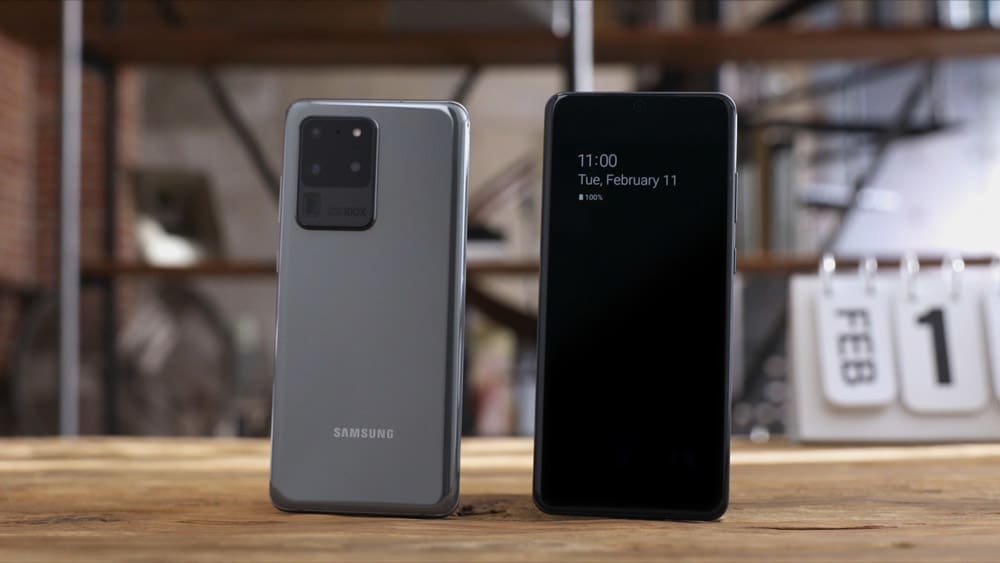 4

16GB RAM

Among other features, the Galaxy S20 Ultra has added a future proof layer by packing in a staggering 16GB of RAM on this device. To be fair, 16GB of RAM cannot even be used by the smartphone right now. Still, the presence of 16GB memory means that the Galaxy S20 Ultra will remain a top-notch performance device for many years. This can also be particularly encouraging if you are a gamer, or are buying the phone for someone that really enjoys long spells of gaming, since gaming, coupled with a certain degree of multitasking, is known for slowing down your phone or heating it up.
5

Massive, superfast display

The 6.9-inch dynamic AMOLED display is typical of Samsung. It is likely one of the very best smartphone displays in the market. It is HDR10+ certified, and watching content on it would be amazing. However, Samsung did not just settle there but went the extra mile by adding a 120Hz refresh rate just the way you would expect to see in a high-performance gaming device. The 120Hz display means gaming would offer great results, and the massive, 5,000mAh battery pack also helps to ensure that the device lasts for long hours.
When you buy things through our links we may earn a commission. Every product is selected independently after intense research by our editors.