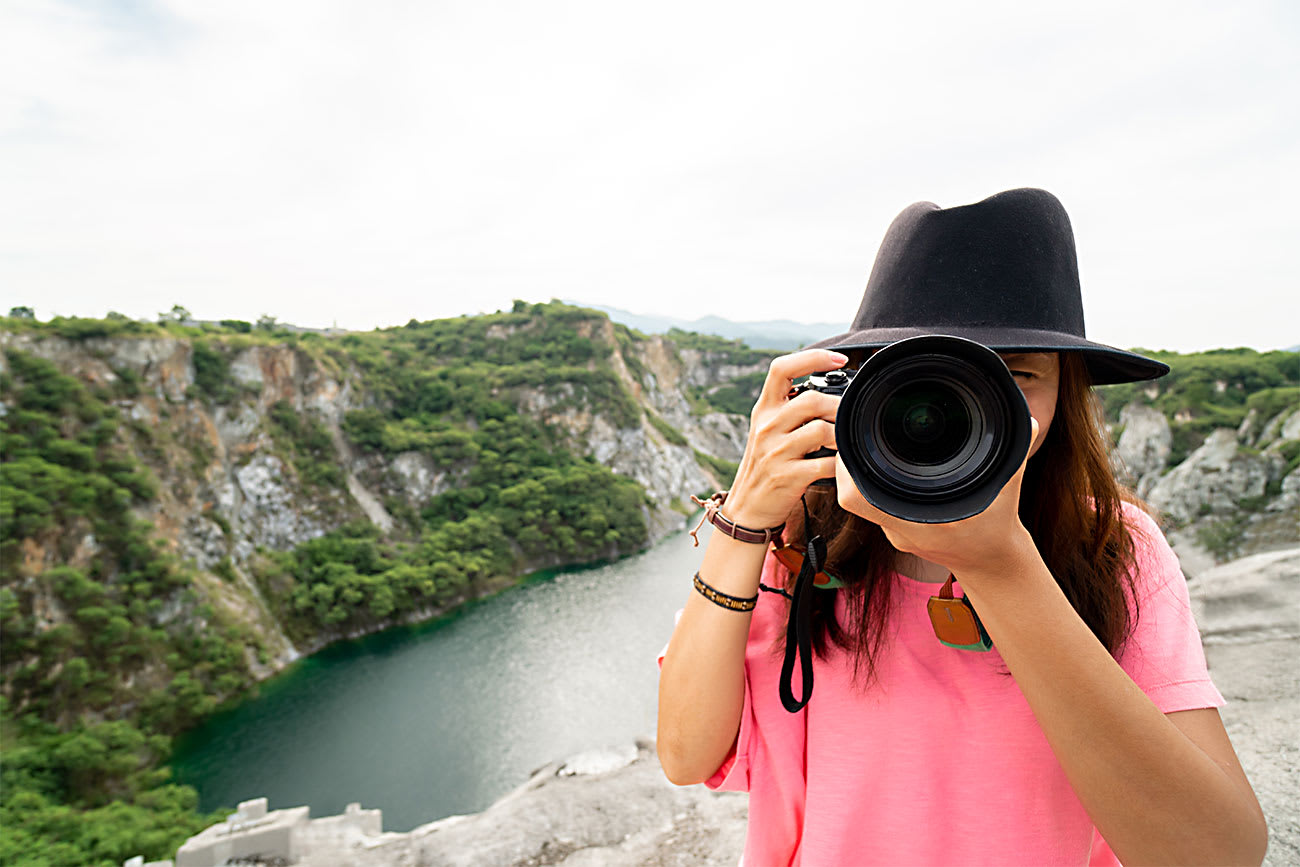 Buying a camera is the ideal next step for users who have picked up photography as a hobby from their smartphone cameras and are actively interested in the art.
While smartphones have evolved leaps and bounds in terms of their photography performance, dedicated DSLR and mirrorless cameras are still a cut above in terms of their offerings.
Dedicated DSLR and mirrorless cameras offer the ability to use various high-quality and interchangeable lenses such as Macro lenses, Wide-angle lenses, Telephoto lenses, and so on to help a user capture amazing photographs.
They also provide better overall photography performance and have specialized tools that can truly help a user take their photography hobby to the next level.
Not only do you get access to full manual controls, but you also get the ability to explore with all kinds of settings, all of which can help you understand the intricate details of photography.
A dedicated camera also gives you the motivation to shoot more. Gradually, you can build your collection of lenses to further diversify your camera's abilities.
Modern-day DSLRs and mirrorless cameras also come equipped with cutting edge technologies such as direct cloud storage backup, Wi-Fi and Bluetooth connectivity for instant image transfer while on the move, rotating displays to record video blogs all by yourself, extensive focus on videography, fully automatic presets to simplify shooting photographs and much more such use cases.
What camera takes the best quality pictures?
The absolute best quality of photographs are typically shot by professional mirrorless or DSLR cameras, which use medium format or full-frame image sensors.
In simpler terms, the main camera sensor (which offers the overall resolution of a photograph that you click) has different sizes, which grow larger as you spend more on a camera. Medium format cameras have the largest sensors, and are typically very expensive, and require extensive knowledge in both theory and practical photography to make the most of them.
Full frame cameras offer similar usage and are also diversified in nature – as an example, high-resolution full-frame cameras are suited for shooting advertisement stills, and specific video-optimized full-frame cameras are ideal for shooting commercial movies.
Most mainstream DSLR and mirrorless cameras, which we will be talking about here, generally have what is known as APS-C sensors. They are the ideal middle ground in terms of overall camera resolution, as well as managing camera size, weight, and other peripheral aspects. As a result, they are also very popular since cameras with APS-C sensors are often highly affordable, but do not compromise too much on overall camera performance.
Which is the best brand of camera in 2020?
This is a tricky question to answer, since the best brand of cameras on overall terms would really depend on which camera you find to be easier to use.
The most popular camera makers worldwide include Canon, Fujifilm, Nikon, and Sony, while the likes of Hasselblad, Leica and Pentax play either super-specialized or bit-part roles in the photography industry.
In terms of the overall diversity of offering, both Canon and Nikon offer the widest range of dedicated cameras across a variety of prices and products.
Sony is well reputed for its overall color performance but is primarily known for its premium, flagship cameras. Fujifilm, on the other hand, offers more expensive products than its competitors but does offer its specialized film simulation modes that are signature to its brand.
For most amateur photographers in general, the most popular choices have remained between Nikon and Canon, since they also offer the widest range of choices in lenses, and also the best value for money.
1
Canon EOS M50
Key Specifications
---
Sensor: APS-C    |    Megapixels: 24.1    |     Screen Size: 3.0″ Touchscreen LCD (TFT)    |    Lens Mount: EF-M    |    Video Resolution: 4K
The Canon EOS M50 is one of the best-equipped mirrorless cameras to buy for beginners.
It has the primary advantage of a mirrorless camera – the clear benefit in its compact overall size, coupled with updated features such as a new, cutting edge image sensor and all the features that you would expect from more expensive cameras.
The EOS M50 also belongs to Canon's new generation of EOS M series mid-range mirrorless cameras, which offer an all new type of lenses, coupled with faster shooting and other benefits.
At the centre of the EOS M50's advantage is its versatility – the camera can shoot 4K videos, has a rotating display that can help shoot video blogs, an optical viewfinder for high precision shooting, and is also fairly reliable for shooting in low light conditions.
This is further combined with Canon's frankly excellent camera interface, which makes accessing all camera settings super easy for even beginners. Using this, beginner photographers can use features such as manual focus assistance, grid shooting and long exposure shooting, to get accustomed to shooting like a professional.
2
Fujifilm X-T200
Key Specifications
---
Sensor: APS-C    |    Megapixels: 24.2    |     Screen Size: 3.5″ Touchscreen LCD (TFT)    |    Lens Mount: FUJIFILM X mount    |    Video Resolution: 4K
Like Canon's EOS M50, the Fujifilm X-T200 is also a great stepping stone into the world of mirrorless camera photography.
The X-T200 is one of the best cameras that offer photographers an entry-level experience into Fujifilm's ecosystem of X-system APS-C sensor mirrorless cameras.
Fujifilm has a typical, vintage rangefinder style for most of their cameras, and the first of multiple things that draw a buyer into a Fujifilm product is its retro design.
Then, comes the overall performance capabilities. It has a 24MP sensor that, when coupled with its new generation processor, lets you shoot continuous shots at up to 8 frames per second. What this means is that for beginner photographers, Fujifilm's X-T200 allows them to get a first-hand experience of taking super stabilized shots of fast-moving subjects.
In terms of its overall price to performance ratio, the Fujifilm X-T200 lets you get well versed with wildlife and sports photography, while also excelling at aspects such as portrait and still life photography, which most Fujifilm cameras are typically great at.
It also offers users first-hand experience of making the most of Fujifilm's much vaunted film simulation modes, without needing to spend too much on the camera.
3
Sony Alpha a6400
Key Specifications
---
Sensor: APS-C    |    Megapixels: 24.2    |     Screen Size: 2.95″ Touchscreen LCD (TFT)    |    Lens Mount: Sony E-mount lenses    |    Video Resolution: 4K
The Sony a6400 is one of the most versatile cameras that an amateur photographer can buy.
Not only does it suffice the needs of a beginner, but it also excels at offering plenty of performance that will future-proof your purchase. The biggest takeaway of the Sony a6400 is an excellent, quick, and accurate autofocus system, which offers real-time subject tracking for sports photography.
Alongside this, the Sony a6400 also offers real-time eye-tracking, which can help amateur photographers make the most of shooting at situations such as a musical concert, a live drama presentation, and more.
Equipped with a 24MP sensor, the Sony a6400 is perhaps the ideal, compact summary of what its flagship cameras offer. The a6400 is almost a mini professional camera, and with Sony having a uniform lens mount for all of its cameras, it can actually mean that you can continue to use the Sony a6400 well after you have become highly skilled at photography.
With 4K videography also part of the offering, the Sony a6400 is one of the very best cameras you can buy today.
4
Nikon Z50
Key Specifications
---
Sensor: APS-C    |    Megapixels: 20.9    |     Screen Size: 3.2″ Touchscreen LCD (TFT)    |    Lens Mount: Nikon Z mount    |    Video Resolution: 4K
The Nikon Z50 is possibly the most well-equipped mirrorless camera in this list. The Z50 might be a bit expensive, particularly considering if you are just starting out in photography, but what it truly offers is a seamless user experience and great future-proofing. What this means, is that you will likely not need to upgrade your camera body for at least another 7-8 years, which is particularly important.
The Nikon Z50 is easy to use, with a very simple button arrangement and interface. In terms of photo quality, the Nikon Z50 is the best of the lot recommended here and also aces video performance.
If you can stretch your budget a little, the Nikon Z50 will undoubtedly be the best camera to buy for amateurs.
5
Canon EOS 4000D
Key Specifications
---
Sensor: APS-C    |    Megapixels: 18.0    |     Screen Size: 2.7″ LCD (TFT)    |    Lens Mount: EF/EF-S    |    Video Resolution: 1080p
Taking into account recent and updated DSLR and mirrorless cameras in the market, the Canon EOS 4000D is the most affordable and reliable camera that amateur photographers and beginner hobbyists can purchase.
It offers a slightly dated design, but one that is highly reliable and ergonomic. The EOS 4000D is simple and easy to use. It provides a very simplified button layout, as well as an easy to use interface that will be quite familiar to you, if you've been shooting with a smartphone so far.
The camera can shoot 18MP photos, and also take 1080p Full HD videos to help amateurs get versed with shooting in manual mode. The EOS 4000D has most of the essential features that you would expect from a camera, and further backs it up with features such as a 2.7-inch LCD display, Wi-Fi connectivity to instantly transfer photos, a crisp optical viewfinder, and more.
The Canon EOS 4000D is one of the best beginner cameras, based on which you can also build your initial collection of lenses that will come of use later if you stay within the Canon ecosystem.
When you buy things through our links we may earn a commission. Every product is selected independently after intense research by our editors.