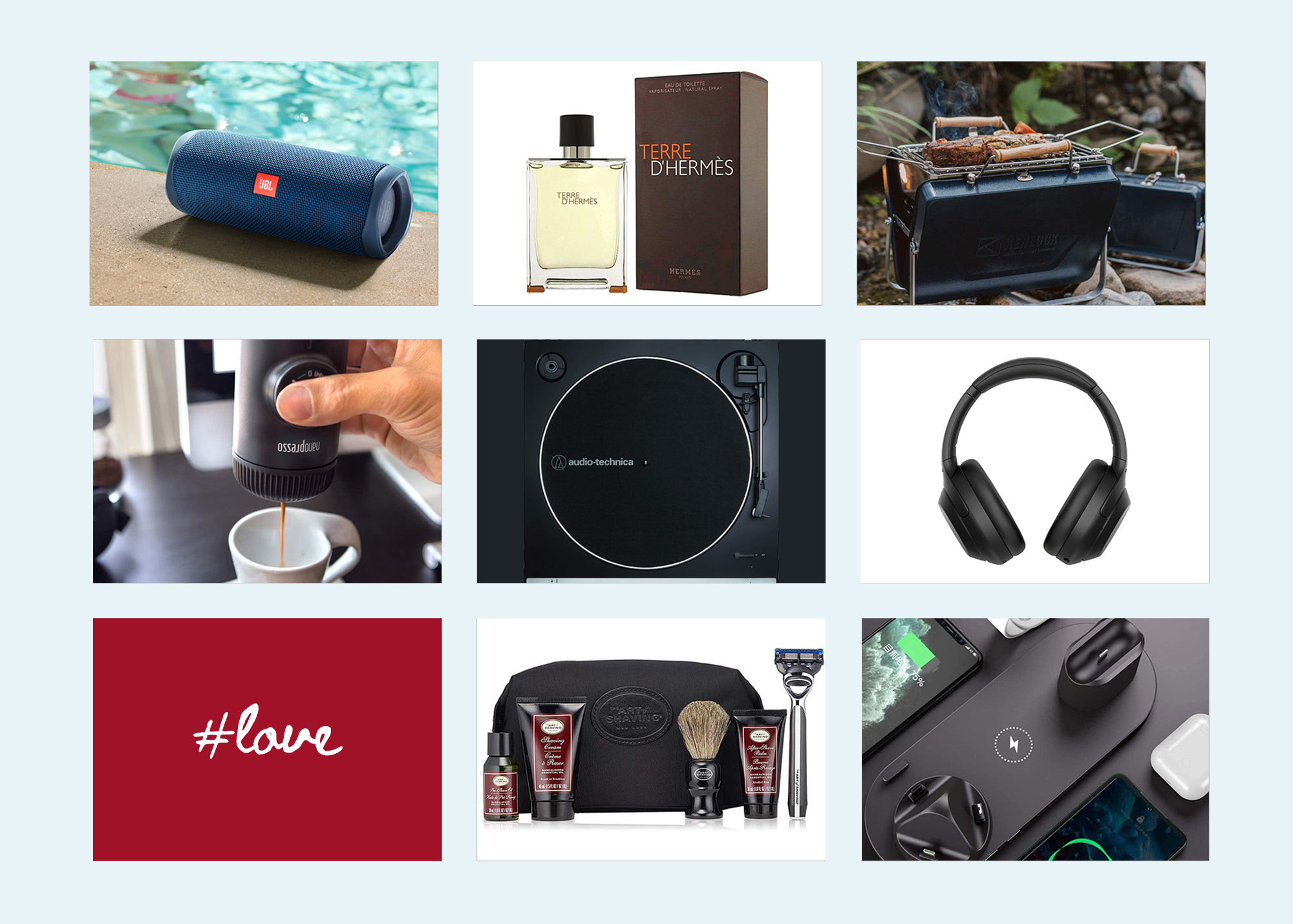 Valentine's Day is just around the corner and we know you're on the lookout for the best gift to get your guy. With stores everywhere practically bursting with exclusive gifts for the occasion, narrowing down your list can seem impossible at the moment.
Worry not, because we are here to help. We understand exactly how important this is for you and your partner, which is why we've chosen only the best gift options out there that you could surprise your guy with. Have a look at these handpicked Valentine's Day gifts available in the UAE and choose the one you think he'll love the most.
Happy Valentine's Day!
If your guy is an espresso lover, this is a sure-fire way to make him fall in love with you all over again. The mini portable espresso maker is a fabulous gift that any coffee aficionado would love. Super lightweight and compact, the Nanopresso will let him enjoy a quick shot of espresso at home, office or on the go.
Guys love a new pair of earphones. With active noise cancellation and other impressive features, the Apple Airpods Pro is excellent for listening to music, podcasts and making calls.
Nothing like giving your partner a massage at the end of a tiring day. Too busy to do it yourself? This shiatsu massager will do the job for you. This is a great gift especially for men who keep complaining of sore muscles in the neck and back. It is portable and can be used anywhere from your home, his office, or in the car.
This camera lens kit is an ideal gift for guys who are passionate about photography. The kit has everything that he would need to make his pictures most striking and professional. The lenses can be used with smartphones, tablets, and even laptops.
Help your man level up his grooming game with a good quality trimmer. Whether he sports a beard or not he will always appreciate a new and advanced trimmer for his self-grooming needs. A multipurpose trimmer that can be used for his hair, face, and body is one of the most useful gifts you can give him.
He'll love this travel mug from Tefal that will keep his tea or coffee hot for up to 4hours and drinks cold for up to 8hours. It's design ensures it is 100% leak proof and enables drinking from all sides.
This is a gift that not just your partner but also his friends would highly appreciate. A foosball table is perfect for when you have your friends over for a party or for when his friends come over for a guys' night. Games never go out of fashion in a man's world and this would be a great way to show your support towards his indulgences.
Be it a romantic date night or an outdoor bbq session, music can help set the mood. A portable wireless Bluetooth speaker is perfect for such occasions and makes for a fabulous gift to your music-loving partner. This is just one of those products that a man will always find good use for.
Today, most men own multiple smartphones and accessories and this comes with the obvious disadvantage of having to rely on numerous chargers. This docking station featuring wireless fast-charging is an absolute must-have for men who own different gadgets. It will not only hold the gadgets but will also keep them charged at the same time.
Men love to grill meat. Even those who seldom cook, find this surprising motivation to be the one manning the grill at every barbecue party. Help him hone his grilling skills with a lightweight portable grill that can be quickly folded into a carry case. It is perfect for your next barbeque gathering in your backyard, dessert or in the park.
Does your guy collect vinyl records and appreciate the old school way of listening to music? Then this wireless entry-level bluetooth turntable is just the perfect way to tell him that you appreciate his quirks. And even if he doesn't own records, this gift will help him start a new passion.
Could there be a more ideal gift for a man who loves working out than a good quality gym bag? We don't think so. This duffel bag is versatile in its uses and is spacious enough to fit in everything he needs for his gym, including his shoes. This is a great gift even for those who regularly indulge in sports activities.
This portable wooden golf set would be an amazing gift for anyone who loves the sport. Even if he doesn't play or fancy golf, this would be a great recreational activity that he would enjoy.
Massages can be extremely relaxing especially for someone who suffers from sore muscles and stiffness. This massage gun is an easy way to give yourself deep tissue massages anywhere, anytime. This portable handheld massager is sure to give your partner the ultimate muscle relaxation and pampering he deserves.
Shaving is a daily ritual for most men. A shaving kit, especially one that is compact enough to travel with, will make for a useful gift for your guy. This shaving kit has a masculine aroma and comes bundled with everything he would need for a flawless shave.
If he's into gadgets and loves to keep upgrading his devices, the latest Apple Watch would most definitely floor him. It looks super stylish and has a long list of features that your guy would greatly appreciate. This is easily one of the most useful gifts you can give him this Valentine's Day.
This shaving cream formulated with the essence of Oud forms a rich lather that will soften the beard for a pleasant shave. It further protects the skin from irritation and leaves the skin feeling smooth and supple.
Does he love making videos or does he just love hi-tech gadgets? Either way this gift will be the sweetest ever surprise for this Valentine's Day. A drone camera is just perfect for capturing video especially during vacations when you get to visit stunning landscapes. Though a little extravagant, his excitement and joy will be priceless.
A tool kit is always a useful gift for a guy. Make it a multitool with a keychain attachment like this one and it makes for an even better gift. This small but versatile tool with its many attachments is ideal for any man. This is more of a big brother to your regular Swiss knife and is sure to come in handy at home.
This automatic espresso maker is another awesome product to surprise your coffee-loving partner with. Espresso, latte macchiato, cappuccino, you name it, and the machine will make it for you in a jiffy. No more standing in lines for your favorite cup of coffee, he can make it right at home.
Getting a new game is always exciting. If your guy is a big fan of the World of Assassination trilogy and never stops talking about it, HITMAN 3, released in January 2021 is the conclusion to the trilogy. Get this highly-rated game for him this Valentine's Day and rest assured, it is going to make his day.
Fitness enthusiast or not, a fitness tracker like the Fitbit Versa 3 will be a super useful gift for your guy. It tracks his activities throughout the day and gives him the push towards a healthier lifestyle if in case he needs it. Quite a handy device to own, fitness trackers are also stylish enough to suit any guy's fashion sense.
The Tile pro will help him keep track of the things he values the most or misplaces often such as his keys. It easily connects with a smartphone and has a bluetooth range of 400ft. Tapping on the tile app will make the tile ring, thus pointing out the location of the object that it is attached to.
Does he already own the AirPods Pro? Then he would definitely love this luxurious leather AirPod case. It works perfectly for protecting his AirPods and looks ultra suave as well. This is a gift that shows that you care, not just for him but also for his belongings.
Is your partner an avid traveler who is always on the lookout for new adventures? Even if he is not, this book will inspire him to take up new adventures and visit new places. It is a guide of sorts that lists various adventurous activities and experiences that would motivate anyone to add to his own bucket list or create one.
Men who are hardcore about how they listen to their music will love this gift. This compact durable waterproof speaker features JBL's signature sound and is perfect for outdoor parties, barbecues, at the beach and even for an indoor gathering.
Could there be a better gift than a brand new gadget for Valentine's Day? Probably not. Especially with the current work-from-home trend, your man is bound to love this Apple iPad more than ever. If you are someone who appreciates the phrase 'Go big or go home', you would want to consider the latest iPad as a gift for him.
Coffee makers are essential these days, be it for home use or office use. It also makes for an awesome gift for your guy, especially if he's someone that can't live without coffee. Also, with a coffee maker at home, you'll wake up to freshly brewed coffee every day and that's a win-win right there.
Can a Valentine's Day gifts list be complete without chocolates? Obviously not. These will always be the most classic gift you can give a loved one and if he has a sweet tooth, even better. A heartfelt note and some chocolates always work, regardless of gender.
Quite the handy kitchen appliance to have, this grill is a super useful gift, especially if he loves to cook. Sandwiches, wraps, meat, fish, or vegetables, this grill will get it done in minutes. Best part? You get to eat whatever he's making! Now that's what we call the best gift.
Perfumes as gifts never go out of fashion. The L.12.12 Blanc comes in an elegant bottle and has a fresh masculine scent that he would love. If not already, the L.12.12 Blanc could be his next favorite.
Instant film cameras are the sweetest gifts ever. They are extremely fun to use and can be great for your trips together. All in all, it is a great gift to instantly capture, print and treasure your memories together.
When you buy things through our links we may earn a commission. Every product is selected independently after intense research by our editors.