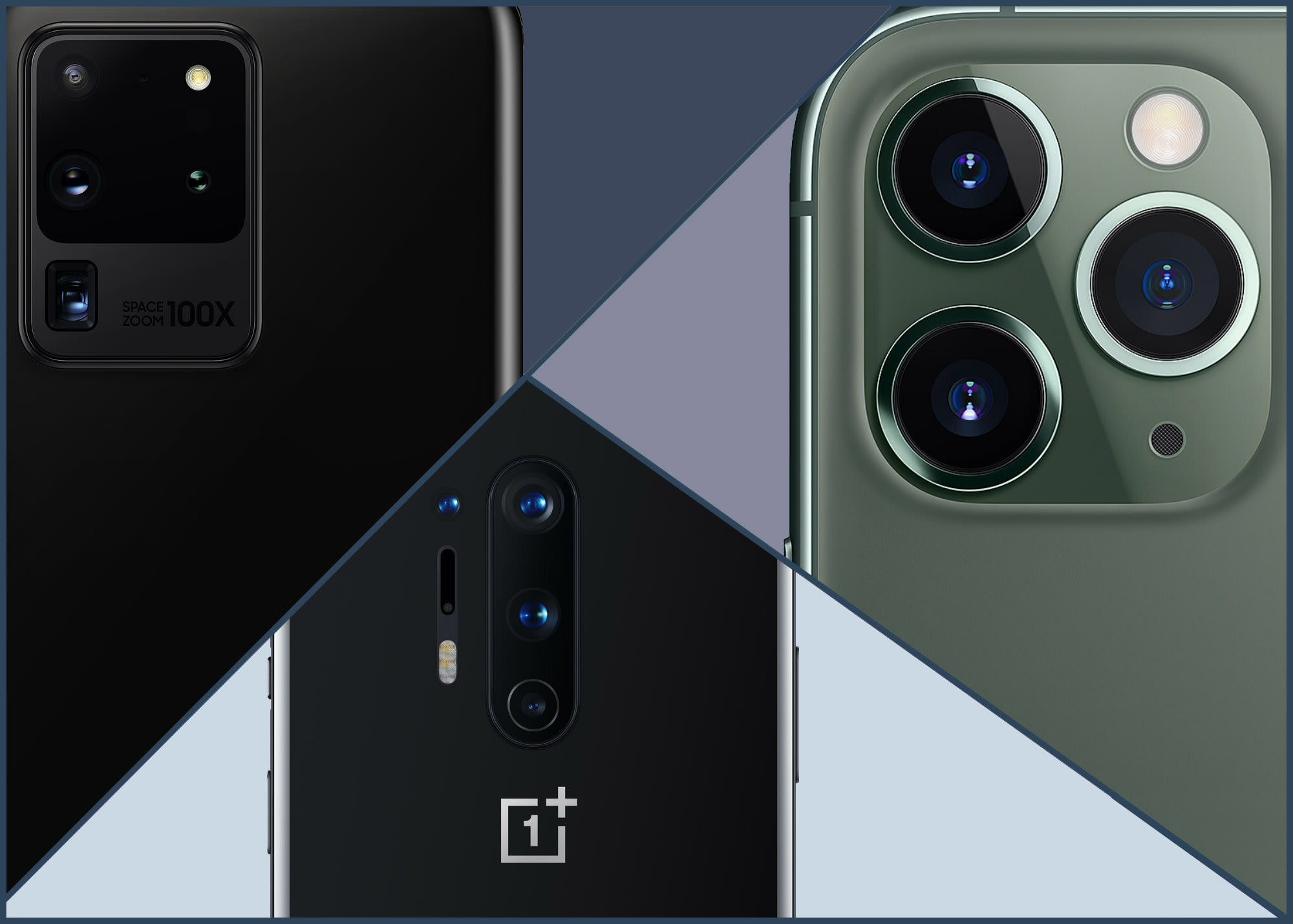 The smartphone market never stands still. Even among flagship smartphones, there is just as much competition as the lower-priced options. On this note, we take a look at and compare three popular flagship phones. We have Apple's 2019 flagship, the iPhone 11 Pro, its response from Samsung – the Samsung Galaxy S20 Ultra and the OnePlus 8 Pro.
The former was the first flagship smartphone to have launched during the lockdown in early 2020. As always, it offered comparable flagship smartphone specifications at a significantly lower price point. Here, we take a look at how each of the three phones is faring presently, having been selling in the market for quite some time now.
The iPhone 11 Pro already has its successor in the market with the iPhone 12 Pro. However, is it too far behind its new variant? Samsung, too, is expected to announce its new flagship, the Galaxy S21, in the coming days. The OnePlus 9 series is not far away as well. Under this scenario, are these three phones still worth buying in terms of performance, cameras, battery life, etc? Here's what you need to know.
Key specs:
Apple iPhone 11 Pro: A13 Bionic SoC (7nm+), 4GB RAM, 64GB/256GB/512GB storage
Samsung Galaxy S20 Ultra: Exynos 990 SoC (7nm+), 12GB/16GB RAM, 128GB/256GB/512GB storage
OnePlus 8 Pro: Qualcomm Snapdragon 865 SoC (7nm+), 8GB/12GB RAM, 128GB/256GB storage
Despite being a year old, the A13 Bionic SoC in the Apple iPhone 11 Pro is still rather powerful. This ensures that it will still give you a smooth iOS usage experience even today. In fact, for the most part, it will be as smooth as the new iPhone 12. The overall performance of the iPhone 11 Pro should easily remain new and fresh for the near future.
Unfortunately, the Exynos 990 in the Samsung Galaxy S20 Ultra was not the most powerful processor of the year. However, despite that, the Samsung Galaxy S20 Ultra was one of the most powerful smartphones to have ever launched and is among the most extreme smartphones you can buy today. Moreover, the Samsung Galaxy S20 Ultra is still considered one of the best Android flagship phones in the market. Its extreme configurations even come with 16GB RAM, which is more than what you will ever need.
However, despite all that, the OnePlus 8 Pro is still arguably a better performing overall phone in terms of gaming and heavy tasks. This is thanks to the Snapdragon 865 processor, which is more powerful than the iPhone 11 Pro's A13 processor. OnePlus also uses a more optimized software than the Galaxy S20 Ultra. This makes it one of the fastest, breeziest, and smoothest flagship Android phones today.
Key specs:
Apple iPhone 11 Pro: 12MP wide + 12MP telephoto (2x zoom) + 12MP ultra-wide (rear), 12MP (front)
Samsung Galaxy S20 Ultra: 108MP wide + 48MP telephoto (4x zoom) + 12MP ultra-wide + ToF 3D depth (rear), 40MP (front)
OnePlus 8 Pro: 48MP wide + 8MP telephoto (3x zoom) + 48MP ultra-wide + 5MP colour filter (rear), 16MP (front)
Apple's new iPhone cameras are exceptional(thanks to computational photography). The triple camera iPhone 11 Pro is among the best there is (even with the iPhone 12 Pro around). It has a 2x telephoto zoom and an ultra-wide unit. It only misses out on the depth-sensing LiDAR sensor of the iPhone 12 Pro. You will most likely not miss the depth sensor much, now that you have night mode on the iPhone 11 Pro.
The Galaxy S20 Ultra does have a pretty revolutionary camera. In terms of core details and overall zoom photography (including its 40x hybrid zoom), it is still among the best in the world. In smartphone camera authority DxOMark's rankings, the Galaxy S20 Ultra ranks in the global top 10 of best camera phones. With a score of 126 points, this is the only one among these three to rank within the top 10. The iPhone 11 Pro misses out only by 2 points with a score of 124 points, hence ranking 11th.
OnePlus, however, still has a long way to go with its phone cameras. The OnePlus 8 Pro scored 118 on DxOMark tests and is presently ranked 22nd on the best phone cameras list. However, should you choose to buy it, you will still get a good camera for occasional personal and social media usage. Anything beyond that and the OnePlus 8 Pro lacks details, richness, and the kind of complete package that the Galaxy S20 Ultra and iPhone 11 Pro offer.
Key specs:
Apple iPhone 11 Pro: 5.8-inch Super Retina XDR OLED, HDR10, 2436 x 1125 pixels, 458ppi, 3,046mAh
Samsung Galaxy S20 Ultra: 6.9-inch Dynamic AMOLED 2X, HDR10+, 3200 x 1440 pixels, 511ppi, 120Hz, 5,000mAh
OnePlus 8 Pro: 6.78-inch Fluid AMOLED, HDR10+, 3168 x 1440 pixels, 513ppi, 120Hz, 4,510mAh
The Super Retina XDR OLED display on the iPhone 11 Pro is undoubtedly excellent. The OLED panel offers punch blacks, excellent contrast, and a super smooth user experience. It also has good battery efficiency, a rich resolution, and the whole nine yards. In terms of pure numbers, though, it falls behind the other two. It has the lowest pixel density, and has only 60Hz touch response, along with the lowest DxOMark display score of 84.
Meanwhile, the Galaxy S20 Ultra has a massive 6.9-inch display with dual-curved edges, which almost looks like a tablet's display. It has the highest display resolution of the three. It comes with HDR10+ certification and supports 120Hz fast refresh rates. It is hands down one of the best displays for watching movies and playing games. It has a score of 87 on DxOMark.
The OnePlus 8 Pro's fluid AMOLED panel has the highest DxOMark score of 88 in this list. It is the second-highest-rated display of all time on the rating body's score sheets. It is excellent for gaming and content viewing. It also has a great balance between power efficiency and the richness of the colors and contrasts produced.
Apple iPhone 11 Pro: From AED 3,399
Samsung Galaxy S20 Ultra: From AED 4,249
OnePlus 8 Pro: From AED 3,099
All things considered, the conclusion is clear. If you are looking for the best overall performing flagship phone in the market, the OnePlus 8 Pro is still one of the best to buy. It would be our choice among these three, thanks to its excellent overall performance, good looks, great display, clean and refined software, and reliable battery life with super fast charging. However, for photography purposes, the Galaxy S20 Ultra is clearly the better pick. For neutral colors and night mode performance, the iPhone 11 Pro is the best camera phone on this list.
Taking price into account, the OnePlus 8 Pro is our winner in this battle. The iPhone 11 Pro comes a close second. The Samsung Galaxy S20 Ultra, meanwhile, is a super exciting phone thanks to its great cameras, ridiculous amounts of RAM, and a massive display. Its current market price means that it too is an excellent phone to purchase.
Apple iPhone 11 Pro
Samsung Galaxy S20 Ultra
OnePlus 8 Pro
When you buy things through our links we may earn a commission. Every product is selected independently after intense research by our editors.