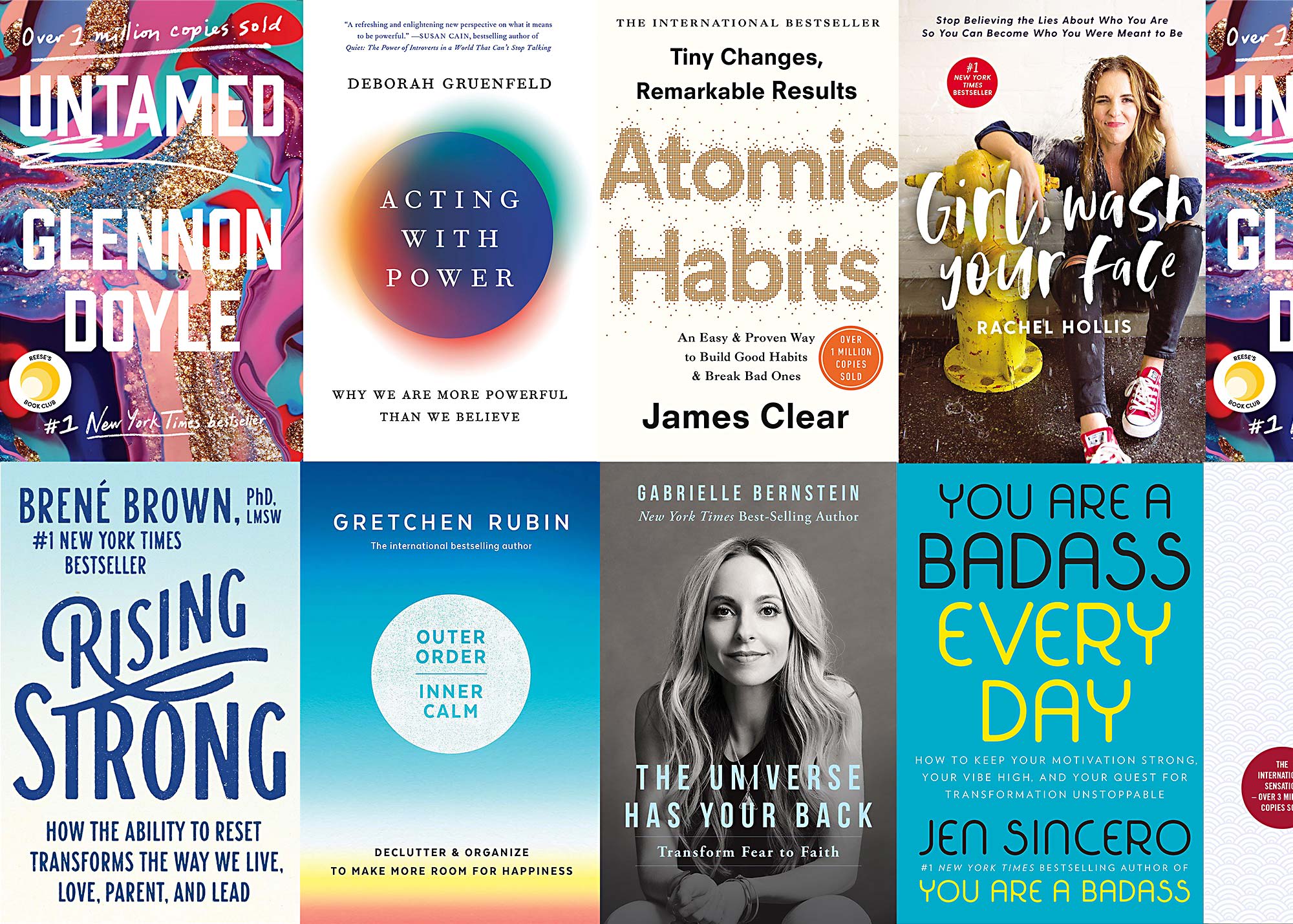 Let's put aside all biases and get real – no one's life is perfect. At some point in time, every individual has felt that their life is just one long, unending struggle for survival.
We would love it if each of our lives could be a well-oiled machine, moving smoothly through time. But, unfortunately, none of us have that luxury. There are times when we get stuck in life, and moving on from there seems almost impossible. If that sounds familiar to you, you're not alone.
Every individual has felt that way at one point or another. The more lucky ones among us remain stuck just for a short period and move forward like it was nothing. Others might have a much harder time with it, and that is absolutely fine.
It is natural to need a little push every once in a while, even more so when we're feeling lost. One of the easiest, most effective ways out of this can be a good book. A book that tells you precisely what you should do and how to do it.
We've put together a list of books that will do just that. Whenever you feel stuck in life, grab one of these books and a cup of coffee, and you're good to go.
A woman takes on different roles in a lifetime and strives to do her best at all of them. But, is that helping her live better? The author delves into the unvoiced longing inside every woman. This book is a memoir of sorts that is also a wake-up call, showing women how to be brave and navigate life's intricacies.
2
Acting with Power: Why We Are More Powerful Than We Believe
by Deborah Gruenfeld
If you are struggling to understand the nature of power, this book might provide you with answers. The author adopts an actor's mindset to explain power and teaches us how to get comfortable with it. This book is an eye-opening read and is based on over twenty years' worth of scientific research.
A messy desk or a cluttered home might not seem like a big deal, especially when you compare it to more significant life problems. But did you know that taking control of your belongings will make you feel more in control of your life? That is precisely what the author tries to tell us in this book. She suggests numerous steps that can help us live the life we want.
For many decades, "positive thinking" was said to be the key to happiness. Mark Manson demolishes this idea in this book and gives the reader nothing but the raw truth. No sugar coating whatsoever. This makes this book a refreshing read for anyone looking for a self-help guide that stands apart from the rest.
Through this book, Mark Manson advises us to accept our limitations, accept & confront our negativities, and pursue what really matters. Liberally scattered with stories, profanity, and humor, this is definitely an unforgettable read.
Rising from our failures and struggles can be the most challenging yet most necessary step towards getting back up. How to do that is one among many topics covered by social scientist Brené Brown in this book. This book teaches us the power of emotion, and why we shouldn't be afraid to accept our shortcomings.
Habits can make or break us. This book by James Clear gives you the necessary tools to change your habits to reach your goal. The author serves you with inspiring real-life stories of successful people from different walks of life while combining proven ideas from psychology, neuroscience, and biology. This book is all about helping you transform your life by altering your habits
This book by Rachel Hollis deals with the lies that women have always believed of themselves. The author deals with one lie in every chapter and narrates how she broke out of its shackles. She borrows numerous examples from her own life on how these lies can harm your quality of life. This book will help you find the strength to change your life, be more joyful, confident, and productive.
Fear is a very common human emotion. Is it possible to change fear into faith? Yes, and this book tells us how. It shows us how to let go of the need to control, and truly live life to the fullest. When life brings you to a point where you feel powerless, this book can help you find the way back to your true power.
This book is a memoir by Phil Knight – the co-founder of popular footwear and apparel brand Nike. It gives us a vivid look into the history of Nike and its journey through the ages. The book also shows us parts of the author's life, obstacles he overcame, and what made him who he is today. If you are looking for inspiration in life, this book filled with life lessons is what you need.
If you've had difficulty staying motivated, this book is a great pick. It teaches you how to own your power to create the life you want and deserve. It lists one hundred exercises, cues, and reflections that will help you overcome your doubts and misgivings. With the help of these exercises, crossing your everyday obstacles will be a piece of cake.
If you thought decluttering and organizing your room is unrelated to your way of life, think again. The author, Japanese cleaning consultant Marie Kondo, gives us a thorough guide to decluttering our home. She teaches us how to simplify, organize, and store our belongings in easy steps through her own revolutionary KonMari method.
This book is one of the best ones out there to help you out when you're stuck. Who wouldn't want to cut down on distractions and stress while increasing productivity and satisfaction? That is exactly what this book promises to help the readers with. This book is a wholesome guide to a better life, from cutting through the clutter to mastering what matters the most to you.
Ever watched and loved the movies Finding Nemo, The Incredibles, Up and Wall E? These and other equally popular ones were made by Pixar Animation Studios. The author of this book, Ed Catmull, is one of the founders of Pixar Animation Studios. He narrates the story behind Pixar and talks about the ideals and techniques behind its massive success. This book can be considered a manual for anyone striving for originality with their creations.
This book takes us through everything we need to know about habit creation and habit reformation. The author explains topics such as the habit loop, the golden rule of habit change, keystone habits, and the power of habit training. By understanding how habits influence our lives and how we could change them, we can become more productive, achieve success, and ultimately transform our lives.
When you buy things through our links we may earn a commission. Every product is selected independently after intense research by our editors.