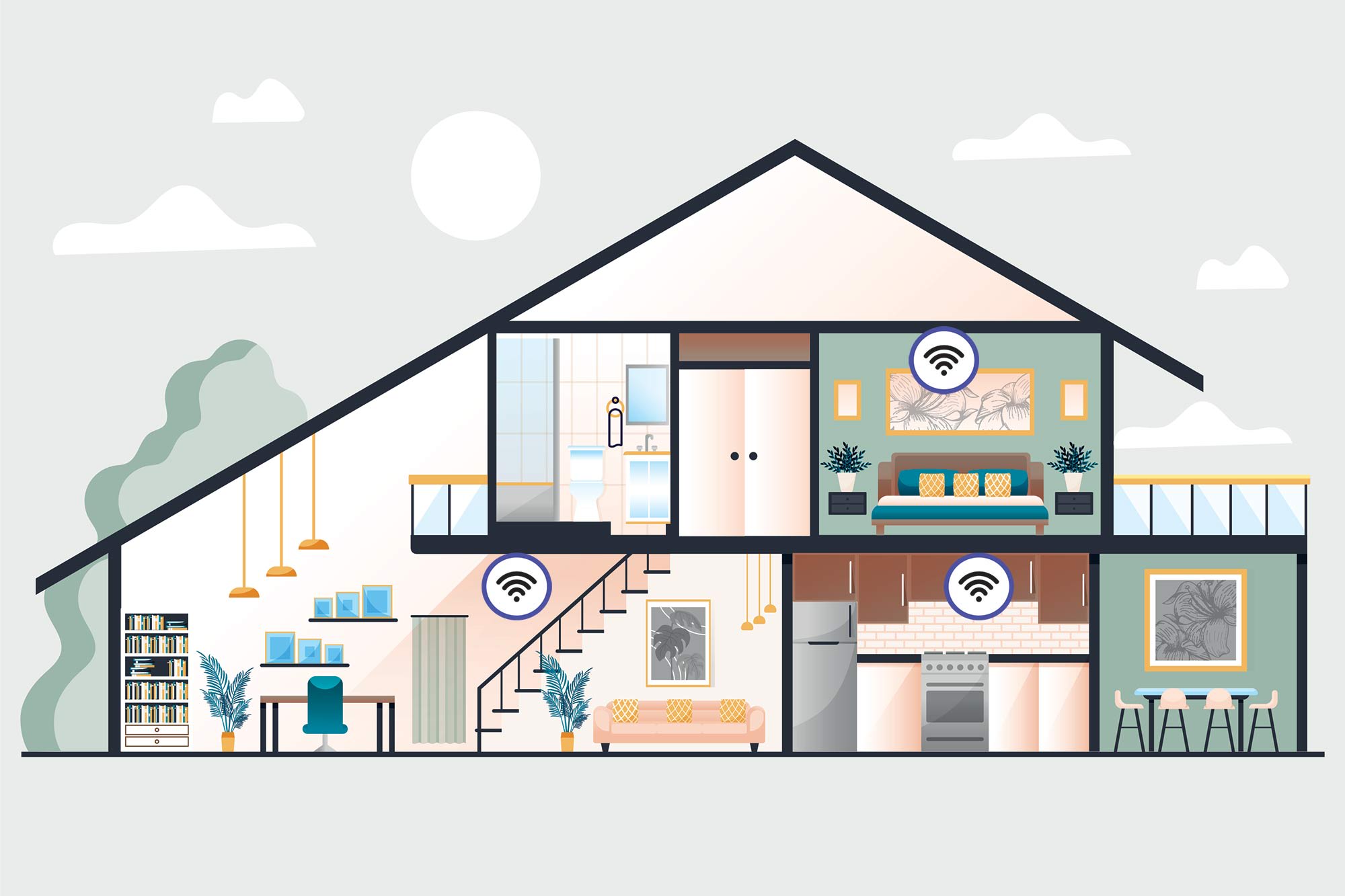 When you think of buying gadgets, mesh routers may not be at the top of your shopping list. Truth be told, routers are one of those breeds of gadgets that do not always cross our minds until we start encountering issues with our internet connectivity.
However, many of us are increasingly working from home due to the Covid-19 pandemic. Which makes a good Wi-Fi router setup for home one of the best technology investments you can make right now. From work tasks to entertainment purposes to online shopping, a good internet setup is pretty much mandatory today. Imagine going through this pandemic without Wi-Fi. Seems impossible, right?
If you are looking to upgrade your existing home Wi-Fi or buy a new router, mesh routers would undoubtedly be one of the best gadgets to invest in.
What are mesh routers?
Mesh routers stand for a network of Wi-Fi routers that interconnect with each other to provide you uninterrupted, seamless, secure, and practical Wi-Fi service across your home. It is, in simple words, a mesh or a crisscross of Wi-Fi signals.
Mesh routers typically have one central router that connects to the internet modem at your home. They feature a number of additional routers that are placed strategically around the house. This ensures there are no blind spots for your home Wi-Fi network connectivity. Typical mesh router setups come with 2- or 3-unit mesh router configurations.
These are good enough to cover large houses with plenty of members using the internet actively. However, do you really need to upgrade to a mesh router network? Is the mesh router service necessary for you? Or are you better off spending your money on a single, standalone, traditional Wi-Fi router that offers great connectivity and is enough for your home size?
We attempt to explain precisely this, along with 5 reasons why you should go for a mesh router setup.
The first step before investing in a mesh router is to gauge the size of your home. In an ideal scenario, a single powerful router of good quality and fast standards is good enough to cover a house that has three rooms. This could easily vary depending on the router's placement, the apartment structure, and the various sources that could be blocking the Wi-Fi signal, such as floors, walls, electronic interference, etc.
If your house is large, you must consider a mesh router for your Wi-Fi network. A mesh router is typically recommended for a home that is 3,000 square feet in size or larger. However, this estimate may vary. For instance, if your house has an unusual layout or you live in a two-storied villa, then a mesh router setup would be ideal. Even if you live in a smaller sized apartment, a mesh setup is always recommended if you face Wi-Fi blind spots.
Similarly, if your house has an extended balcony or terrace, or a backyard or garden where you would like your Wi-Fi network accessible, a mesh router may be the perfect solution for you.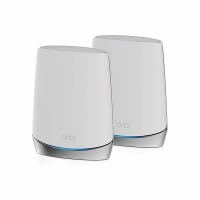 NETGEAR Orbi WiFi 6 Mesh System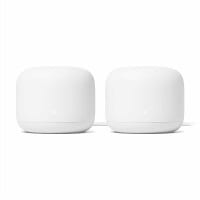 Google Nest Wifi Mesh System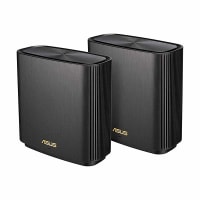 Asus XT8 Zenwifi Mesh Wifi System
2

Getting stable, fast internet everywhere
Among other factors, mesh routers help improve the stability and overall speed of Wi-Fi connectivity at home. One of the biggest obstacles you may face with your home Wi-Fi network is blind spots.
These could be areas such as the balcony, washrooms, garage, or even living room foyers where Wi-Fi signal is low or unavailable. If your Wi-Fi router is placed in the living room and your bedroom is at an awkward angle to it, you might be getting an uneven Wi-Fi network. A network of mesh routers placed in these locations will help you remove the blind spots by providing a uniform Wi-Fi signal to ensure consistent network coverage.
This also means that all your devices will be able to run at the fastest possible bandwidth that your internet connection is capable of. Depending on your home internet, this can potentially improve your home Wi-Fi internet speed by a huge margin.
3

Setting up guest networks
If you have guests visiting often, you may find it particularly inconvenient to offer your home Wi-Fi sign-in details to them. Guest networks, hence, are a significant advantage that mesh routers provide.
You can choose to keep a single Wi-Fi SSID (wireless network name) for personal use and easily configure a secondary guest network. Many mesh routers also allow you to control the network through an accompanying app. Using this, you can simply give guests access to your Wi-Fi network, without letting them access your private Wi-Fi credentials.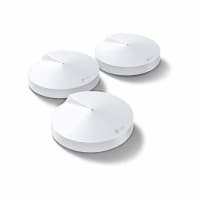 Tplink Deco M9 Plus Mesh Wi-Fi System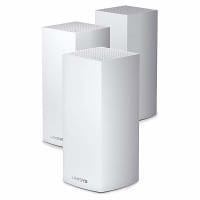 Linksys MX4200 Velop Mesh WiFi 6 System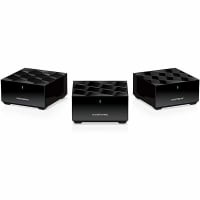 Netgear MK63 Nighthawk Mesh WiFi 6 System
4

Having multi-room smart home devices
Mesh routers are also particularly useful if you are setting up a complete smart home. In such cases, your home Wi-Fi connectivity may need to reach far corners. This includes areas such as foyers (for smart lights), washrooms (for smart water heaters), and even kitchens (for smart home displays, speakers, or appliances).
It is here that a mesh router really helps. If you have a standalone router, the reach of your Wi-Fi may be inconsistent, causing your smart appliances to go offline every now and then.
With a mesh router setup, you can run a large batch of smart home appliances and devices seamlessly and uniformly, without having to worry about Wi-Fi inconsistencies.
Since all mesh routers in a network, also work on one Wi-Fi SSID(wireless network name), it also becomes super easy to configure all your smart appliances and devices to that one ID. Thus you can control your entire home from one central location, such as a smart digital assistant app.
5

Improving home Wi-Fi security
Today, most mesh routers come with the latest encryption standards, coupled with accompanying smartphone apps that allow you to tightly monitor your safety standards. As a result, you can closely monitor your router traffic and control all connections to your home Wi-Fi network.
You can also update passwords and set up guest networks to segregate between regular use Wi-Fi networks and occasional use Wi-Fi networks. There are also options for setting up firewalls to protect your network against unauthorized access and regularly review all the safety protocols for your home Wi-Fi setup.
This is a huge plus since you get to keep all your data (including financial transactions) as secure as you possibly can. While standalone Wi-Fi routers also have this feature, the flagship router devices turn out to be quite expensive.
When you buy things through our links we may earn a commission. Every product is selected independently after intense research by our editors.