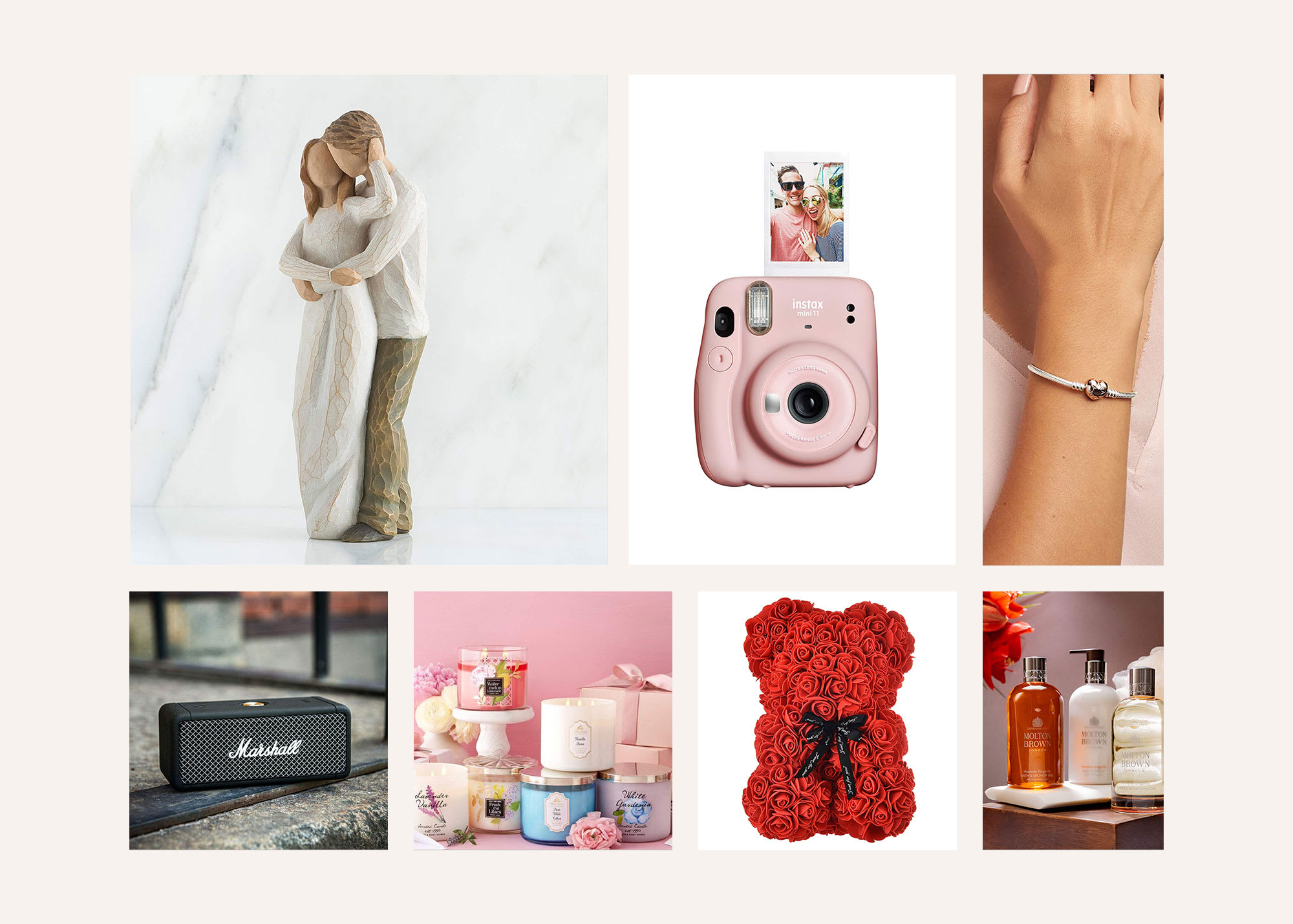 The day of red hearts and Cupid bows is upon us and we know you're on the lookout for the perfect gift that will wow your special lady. The choices are aplenty, which makes choosing the right gift quite a daunting task.
Fret not, because we have put together a list of just the best Valentine's Day gifts that are certain to make her feel the love. The list has everything from classic gifts with a new spin put on them to innovative and trendy ones for the modern woman. We're sure you'll find a gift among these that your loved one will cherish for a long time.
Happy Valentine's Day!
Instead of the usual bouquet of roses that will wilt sooner or later, pick one of these handmade preserved naturally grown roses that never wither, as a symbol of your everlasting love for her.
If she is a coffee lover she is going to love this beautiful coffee machine from Smeg. Nothing like freshly-brewed coffee to keep her happy all day.
This weighted blanked is super soft, will help her relax and is made of chilled bamboo, that will keep her cool. It is, therefore, perfect for warmer climates like the UAE. A well-rested woman is a happy woman, right?
Nothing like a nice long bubble bath to melt away stress. This bathtub tray is a perfect way to relax with a book or Tablet while she is at it. It can also hold her bath essentials for a spa-like experience.
Lip care is extremely important to women and this luxurious lip mask from Tatcha is definitely a product she would love. It helps to hydrate and soften the lips, making them plumper and smoother.
Quite possibly one of the most useful kitchen appliances you could get her, this blender comes super handy when she needs to make smoothies, milkshakes, protein shakes, etc.
Perfumes are one of the easiest ways to keep her always thinking of you. She will love this sensual Perfume in a luxurious bottle by Roberto Cavalli.
Bath sets are classics when it comes to Valentine's day gifts for women. There isn't a single woman out there who will say no to a deeply nourishing, aromatic Ayurvedic bath set like this one. This gift box contains a foaming shower gel, body cream, body scrub, dry body oil, hand soap and mini fragrance sticks.
Nothing like a gorgeous scented candle to set the mood either for your romantic Valentine's dinner or for a relaxing bath. It's also great for stress relief and for keeping your home smelling divine.
Her lips deserve the best care and this lip mask is a great gift for your special lady. It deeply nourishes and hydrates the lips leaving no space for chapped or dry lips.
Delicate jewelry like this silver charm bracelet is perfect for everyday wear and would be loved by any woman who likes to go minimal when it comes to jewelry. It will also remind her of you, each time she wears it.
Transform her bath time into a more luxurious experience with a premium shower gel. You can pick her most favorite fragrances and it will make for a perfect Valentine's Day gift.
Roses and teddy bears are classic gifts when it comes to Valentine's Day. So how about a bouquet of roses shaped in the form of a teddy bear? Now that's indeed a charming gift for your beloved lady.
A woman's pampering session is incomplete without a facial mask. Get her a set of these lush hydrating sheet masks and show her how much you care for her.
If she loves drinking tea or coffee, she is definitely going to appreciate this mug warmer. It is electrically charged and keeps her beverage warm for several hours.
Just like skin care, body care essentials are also a great gifting option for your woman. This set has a shower gel, body mist, and body lotion, making it a complete package for her daily use.
You can never disappoint a woman with a premium Tote bag like this one. Tote bags are spacious enough to hold the gazillion things she carries around and look super stylish as well.
Body care products make for a great gift especially if they are a travel-friendly set like this one with its own travel pouch. Enriched with shea butter, this set has a shower cream, body butter, and hand cream.
Hand-painted resin figurines are a fabulous gifting option for women. You can show your love in several different ways so why not show it with a cute figurine like this one?
This is one gift that you can be 100% sure she will love and use extensively. Airpods Pro from Apple is a fantastic gift for your woman and gives her the best music listening experience with its noise cancellation technology. It is even excellent for listening to podcasts and making calls.
One of the most popular skincare tools out there, a Jade roller and gua sha set is a great gift that she will love to incorporate into her skincare routine. It helps improve circulation, relieve stress and speeds up the healing process to restore a glowing, youthful appearance.
Women love perfumes and that isn't changing any time soon. Go for subtle and delicate notes instead of overpowering ones, like this sensual perfume from Calvin Klien, and she is going to absolutely love it.
How about gifting her a super cute case for her precious AirPods this Valentine's Day? It provides complete protection from scratches, falls, bumps, etc, and is lightweight enough to be carried anywhere.
Music can make everything better and a portable bluetooth speaker is a perfect gift for your music-loving sweetheart. This one here gives you 360 degree sound for an immersive musical experience.
Quickly gaining popularity among women all over the world, these silk pillow cases made with pure Mulberry silk are a boon for your woman's skin and hair. It is hypoallergenic and takes care of her skin while she sleeps.
If curling up with a good book and a cup of coffee is her favorite thing to do, then she is going to absolutely love this gift. A Kindle is easily any bookaholic's favorite gadget and makes for an awesome Valentine's Day surprise.
Did you know that scents have the ability to evoke strong emotional reactions and therefore affect how we feel? That is why scented candles make for a charming gift for women and they have healing properties as well.
If you have the budget for something big this Valentine's Day, an Apple iPad is one of the most useful gifts you can get her. Be it for work purposes or binge-watching Netflix shows, this is a gift that she will most definitely enjoy for many years to come.
When you buy things through our links we may earn a commission. Every product is selected independently after intense research by our editors.