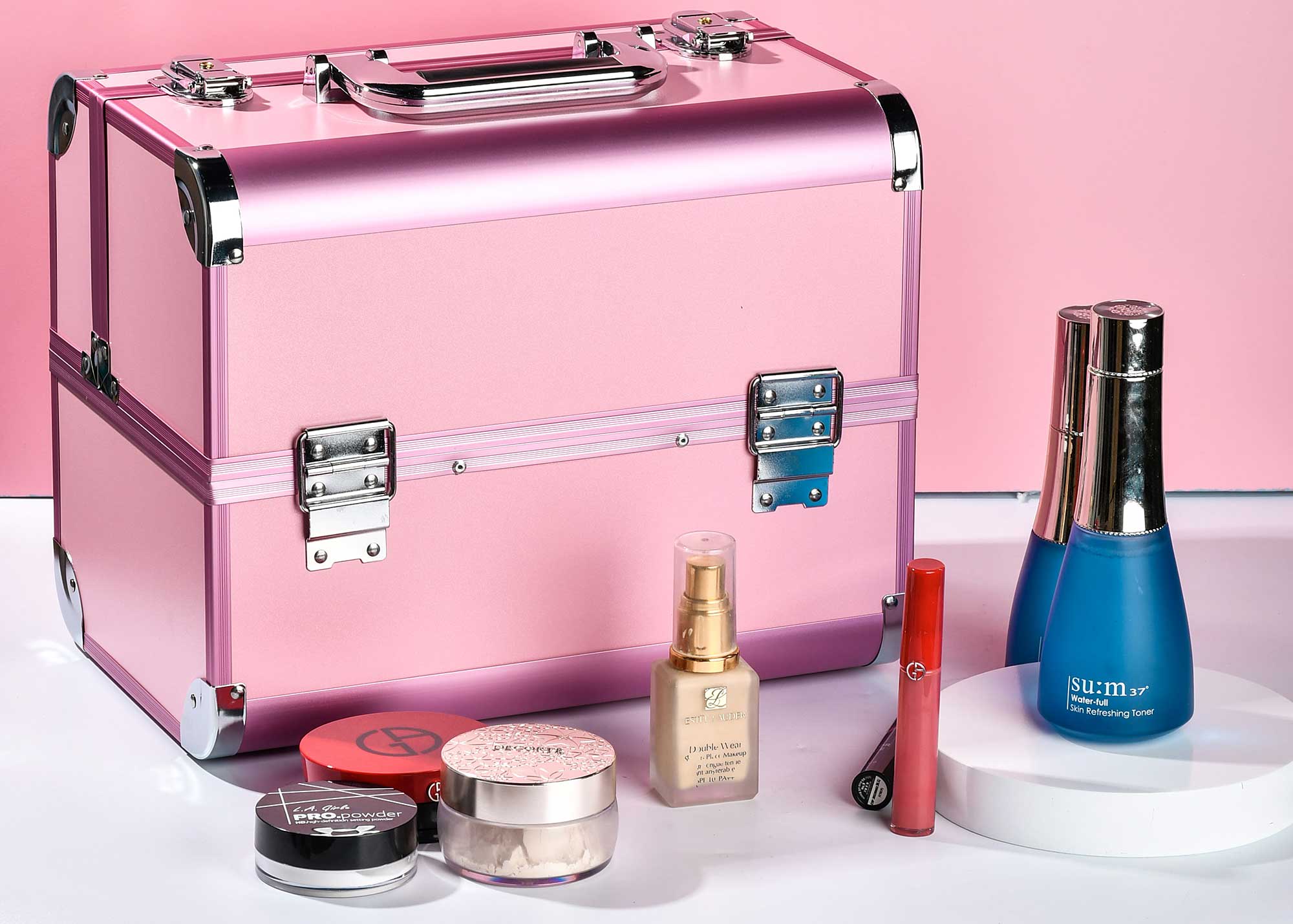 Keeping your makeup and cosmetics neatly organized is a struggle we understand very well. We have all been there. A cluttered, messy vanity can bring down the look of your whole room. It can also make your dressing up a difficult and time-consuming process. You'd be hunting for that one shade of red lipstick amongst all the clutter and losing precious time, especially when you're in a hurry. To avoid all such hassles, it is essential to store your makeup, cosmetics, beauty accessories, and jewelry in dedicated organizers. Organizers help tidy up your vanity and make it look uncluttered while also saving space.
Before choosing the perfect vanity organizer, you need to decide on how you are going to separate your collection of products. Based on that, you can pick the organizer that is best suited for the storage and display you imagined. We've come up with a list of recommendations that are sure to be useful in picking the organizer you need for yourself. These also make for a great gift too!
This jewelry tray can be a gorgeous addition to your vanity because of its sleek, luxurious looks. The geometric shape and plated brass finish make it a stylish upgrade from your regular jewelry trays. This is perfect for storing and displaying your favorite pieces of jewelry.
Here is a one-stop solution for all your makeup needs while traveling. The built-in mirror with bulbs allows you to do your makeup whenever and wherever. Other special features include a portable retractable/telescoping handle, inline skate wheels, an easy close latch with a lock, and 4 extendable trays. The synthetic leather finish makes this a classy train case for your makeup storage.
If you're looking for a product that serves many purposes, this makeup organizer is a great pick. It is adjustable, super easy to assemble, and can accommodate a large number of products, unlike smaller organizers. Its vertical build takes up very less space, without compromising on the products it can hold.
This is a stunning 2-in-1 product that is sure to add glamour to your vanity. The marble tray can be used in many different ways to display your makeup, jewelry, cosmetics, perfumes, skincare products and so on. You can even use it as a candleholder! The strong metal frame with polished gold finish looks absolutely elegant while also being durable.
Another classy train case for your makeup, this product is made of faux leather for a stylish look. It also has dust-resistant, water-resistant interiors that keeps your makeup safe from external elements. The roomy storage space and locks make it perfect for outdoor makeup requirements.
Storing your jewelry in boxes can sometimes get them all tangled up. This jewelry organizer comes with a three-tier design that helps you store and display a variety of neckpieces of different lengths. The bottom of the stand comes with a jewelry tray for your rings, bracelets, etc. The padded base keeps your furniture scratch-free.
Your messy dressing table will look much more organized with this product. Made with highly durable plastic and an innovative design, this can tidy up your space in a jiffy. It's perfect for your eyeshadow palettes, lipsticks, powders, creams, etc. Its compact size can fit into any dresser, closet, or drawer.
Your precious collection of lipsticks needs to be flaunted and this lipstick organizer is just what you need. Made with thick, transparent glass, this organizer gives a luxurious touch to your vanity. You can also use it to store your nail polishes, brushes, eyebrow pencils, etc. This would make an eye-catching display for your makeup.
If you are a fan of retro styles, this makeup case in bubblegum pink can be a great option. With spacious storage, an auto-open tray, flip lid, mirror, and a latch, this is perfect for spill-proof, on-the-go storage.
Your cluttered desk drawers will thank you for these polystyrene organizers. They come in different sizes which allows you to customize your combinations. The transparent boxes make it easy to spot your products and this entire set can be divided and used wherever you need them.
This makeup train case is portable and lightweight with waterproof, shockproof, anti-wear, and spill-proof interiors. Made with high-quality Oxford Fabric, this has enough space for your makeup, cosmetics, jewelry, toiletries, etc. Its adjustable compartments is great for easy storage.
The unique switchable cover keeps your collection away from dust and water. Be it makeup, cosmetics, jewelry, or hair accessories, this durable makeup organizer can store them all. It also has a built-in handle for when you need to carry it around. Its large compartment and removable drawers make storage so much easier.
Clear makeup organizers are your best bet for hassle-free storage. This product made with durable acrylic and an open-top design helps you to spot and retrieve your makeup in a jiffy. The multiple individual compartments of varying sizes make customized storage easy and efficient.
If you're looking for a stylish makeup train case that is easy to carry, clean, and store your stuff, this could be it. Made with high-quality oxford fabric and nylon lining, the large compartments can hold everything from makeup to curling irons. What's more, the adjustable straps allow you to use it as a backpack or a shoulder bag for when you're on the go!
The sleek yet durable design with dust-proof, spill-proof packaging makes this train case perfect for long-term use. Weighing less than 5 pounds, it is super light to carry and spacious enough for your makeup and beauty accessories.
If you find makeup train cases too big for your needs, you can check out this cosmetic compact. Small enough to fit into your handbag or travel bag, this has 5 compartments to hold your makeup essentials. It also has a mirror for your makeup applications and touch-ups whenever you need them.
This product can be one of the coolest addition to your vanity. This compact makeup fridge gives a cooling of up to 22°C and can heat up to 65°C. So, you can not only keep your cosmetics and beverages cool but also keep your coffee, lunch, etc warm. With a light-fitted mirror at the front, this can double up as a complete makeup station too. A perfect multipurpose addition to your space!
This dark green jewelry case with three layers is perfect for neatly storing all your accessories such as earrings, necklaces, bracelets, ring brooches and watches. It also features a lock to keep your vanity secured.
So, what are you waiting for? Pick your favorite and get organizing!
When you buy things through our links we may earn a commission. Every product is selected independently after intense research by our editors.