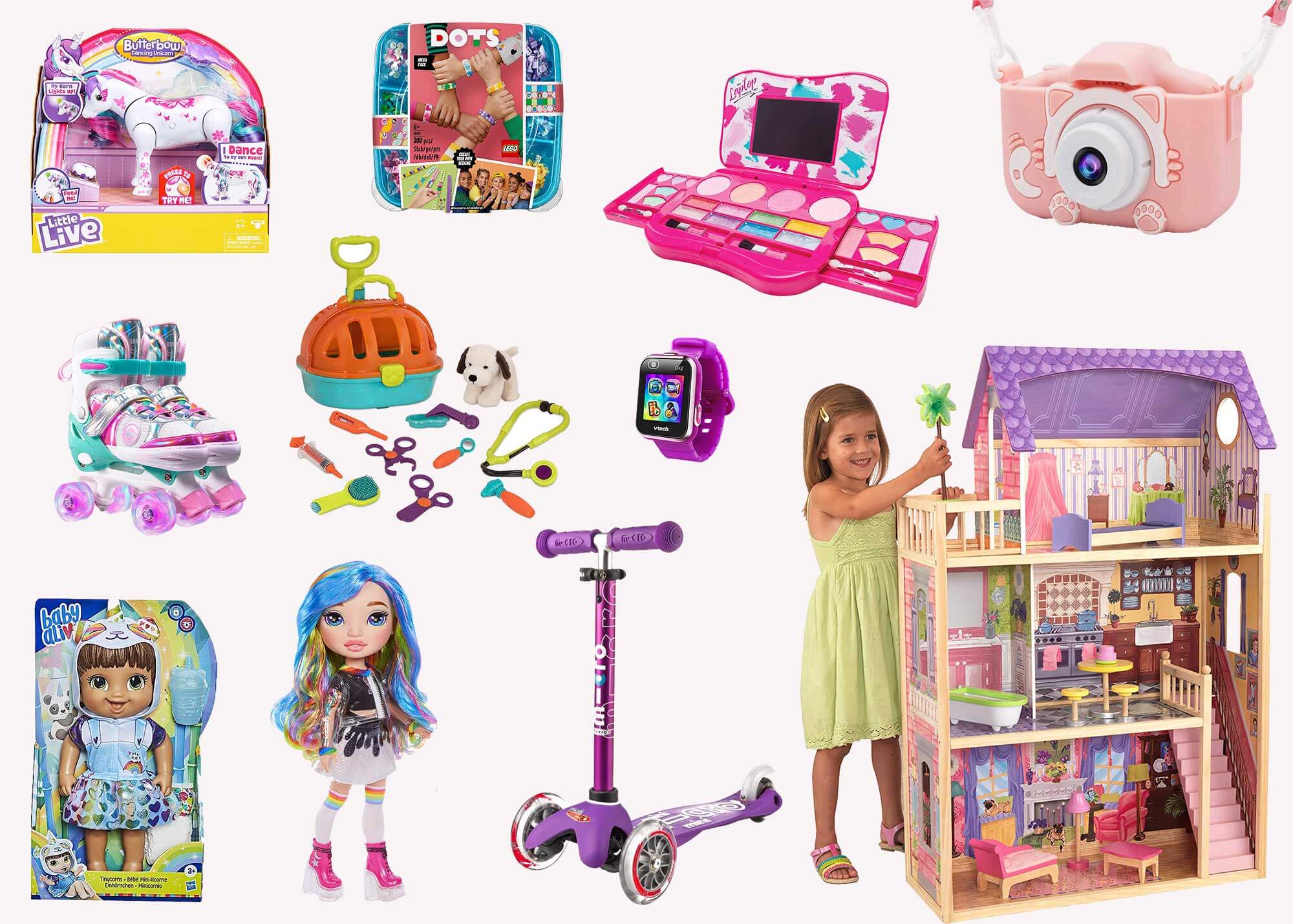 Finding the perfect gift for a little girl is always a delightful process. There are thousands of adorable gifting options out there from dreamy princess castles to glitter pens and more. However, finding the right one can get quite tricky. Should you try and get them something related to a cartoon character they love? Or should you instead opt for something that sparks their creativity and pushes them to create something from scratch? Well, you won't know until you check out the range of options available. Don't worry, we've made things simpler for you. Browse through the curated collection of gifts that we've researched and listed below and you will surely find something that will bring a smile to their little faces.
This sprinkle art shaker is a fun way to ensure kids get creative with sprinkles without making a mess! They come with glue tubes and a cover to ensure the sprinkles don't fly everywhere and can be disposed of easily. 
Remember as kids how much fun we used to have blowing bubbles? Well, this fun kit combines the excitement of bubbles with a touch of science to ensure she has a fun learning experience while trying out various bubble tricks.
What could be a better gift for a little princess than a beautiful castle tent? Made of a light, yet durable fabric, it is a perfect portable playhouse for her. As if all that wasn't enough, it comes equipped with bright stars for that truly magical effect!
Most young girls love dressing up and putting on makeup. This awesome makeup set has lots of real makeup, eye-shadows, lip gloss, cosmetic applicators and even a mirror! Moreover, it is non-toxic and safe.
Have a budding little vlogger at home? This innovative vlogging kit includes a vlogging camera for kids, a tripod and a green screen – everything a little girl would need to start recording her own fun videos. It is simple enough for kids to use and is a great way for them to express their creativity.
While this may seem like a very common gift, it is rare to find a princess castle that is as beautiful as this one. It comes with miniature figures as well so that your little princess can assemble the castle and have fun playing with it for a long time.
This light-up tracing pad is the perfect tool for children to learn how to draw. Equipped with tracing sheets and a pencil, all they have to do is place a paper on top of the LED pad and start tracing away.
If you truly want to give her a surprising gift, this blume garden playset promises a range of 30 surprises for any girl who is lucky enough to get it. It comes with a rare, hidden blume doll that reveals itself upon adding water and is the perfect gift to spark curiosity and delight in any child.
Taking fun and interactivity to the next level, this little baby doll can actually grow up from a toddler to a little baby. It comes with three different modes which are guaranteed to give any child hours of playtime fun.
The perfect toy for a girl who loves dolls, rainbow surprise dolls come with a bunch of surprises in store. The doll's outfit can be customized in fun and interesting ways, making this a good way for girls to creatively express themselves as well.
These adorable little toys come with a bunch of surprises. Their soft fur can be washed to reveal a fun scented surprise. Little girls can then dry the doll and groom it as they like making it a fun little option for a gift.
Who doesn't love taking selfies! Get this beautiful little selfie camera for a little girl and she will have a great time with it. The cute colour and design make this a one-of-a-kind camera that also comes with a camcorder feature for videos. 
If you are seeking a gift for an active little girl, look no further. This little scooter is any child's dream come true. Made with sturdy materials and an adjustable handle, this mini scooter comes in a delightful shade that girls would love.
Another fun example of technology for kids, this smartwatch comes with an easy-to-use interface and bright colours that a little girl would adore. What's more, it comes equipped with a camera and a range of features to keep kids engaged for hours on end.
You can never go wrong with a unicorn-themed gift for a little girl and it doesn't get better than this unicorn carriage. It even comes equipped with a light-up horn that even makes unicorn galloping sounds. For greater interactivity, the floorboard can be removed to let kids move the carriage with their feet. 
Little girls love imitating their moms and this vanity stand is just the thing your girl would love. Based on a popular animated movie character, this unique product even incorporates unique moments from the story it is based on. It even comes with an actual drawer making it the perfect thing for a little girl's bedroom.
Your little girl will have countless hours of fun riding around on this two-in-one product. On the one hand, it is a fun tricycle that they can ride around the house. On the other hand, the handle can be adjusted to convert the entire thing into a scooter too.
If you want to make your gift extra special, simply get her a plush Unicorn. This soft and adorable toy features snuggly fur and shimmering detail – everything that a little girl would absolutely fall in love with.
Instead of getting her regular building blocks, opt for this fun and interactive magnetic building blocks and add an exciting and innovative twist to her playtime. It is not only a fun toy but also a great STEAM tool.
A sure-fire way of boosting your little girl's creativity, this set features a range of wooden pieces that are shaped in different ways. Your girl just needs to pick a card of her choice, check out the pattern and arrange the blocks accordingly for countless hours of fun.
A scooter is always a great gift for a child and little girls are no different. This one comes in exciting colours that a girl would love. What's more, it can be easily folded and stowed away. This also makes this product extremely easy to travel with.
Another innovative piece of technology for kids, these portable Bluetooth headphones for kids not only look adorable but also work well with all devices. They are shaped like a cat's ears that even glow! What more could a little girl ask for?
Featuring a popular character that little girls love, this little playhouse is the perfect toy for any kid. It features four colorful rooms with furniture along with Peppa pig, George, and Suzy sheep figurines. 
Role-playing is an essential part of child development. Every little girl loves playing with their mom's cosmetics but often aren't allowed to do so. This fake cosmetics kit is the perfect toy for such girls as it lets them pretend play with the included hair, nail, and makeup accessories.
Yet another extremely classic toy, this wooden kitchen set looks absolutely beautiful. It comes equipped with a range of appliances and fake cutlery, making it the perfect toy for any little girl out there.
A fun and innovative toy for any child, this marble maze is not only a joy to play with but actually has to be constructed. Parents and older siblings too can join in on the fun and construct this toy with their little girls.
As the name suggests, this cute little 10-inch tall unicorn plush is something no little girl should miss out on. Besides looking absolutely adorable, it is extremely cuddly, soft and huggable. What's more, the unicorn itself can be safely washed.
This interesting little posable doll with bright blue eyes is a hot favorite with little girls around the world these days. The arms and legs of the doll can be easily bent to strike any pose, thereby unlocking the imagination of kids as they play with it.
A fun stylish pair of roller skates that are completely adjustable, these ones come with illuminating wheels too! Little girls can have hours of fun zooming around indoors or outdoors with this fun pair of skates. 
If your little girl loves pets, she will cherish this vet kit. It features a little puppy, a pull-along crate, and a range of pretend medical accessories that they would need to treat that little pup. Girls can easily pretend play for hours with this fun toy.
This fun little product includes a blume doll that literally blooms from a pot when you add water! The doll itself has fun, squishy hair and comes along with a range of different surprises just waiting to be discovered.
Can a list about gifts for girls be complete without a unicorn product? This unicorn tent perfectly captures the majesty and grace of unicorns in the form of a beautiful tent. Easy to install and lightweight, it makes for a good gift for any girl.
When you buy things through our links we may earn a commission. Every product is selected independently after intense research by our editors.