Maintaining a house and keeping it clean & safe is not always the easiest. But you can achieve that quickly and efficiently thanks to all the little helper products that you probably never even knew existed or worked. If you look around your house you'll see that you don't really need to do that much; probably just some minor fixes here and there and adding these helpful products will make your life a bit more effortless and unchallenging.
But where would you possibly find such products? Not many stores have everything you might need to make minor and major improvements around your house. Don't worry we've got your back, scroll through our laboriously curated list of products that will make your life and home better.
One of the grossest things you could do around the house is clearing out the bathtub drain with all the hair and gunk stuck in it. All this gunk blocks the flow of the water and regular drain stoppers don't help much. Instead, try this handy drain protector that fits into the drain and collects all your hair, dirt, and grime. Cleaning it is simple and hassle-free.
This handy brush has a unique three cleaning arm design covered with microfiber material on one end and a brush on the other end. It is excellent for cleaning the air deflector vents on your AC unit, the tiny space under the window grills, blinds, your keyboards and other hard to clean places. They can even be used to clean the AC vents in your car.
The window track in your house is another part that is notoriously tough to clean. Regular dusting brushes won't do the trick and you often have to grab a cleaning cloth yourself and fish out the dirt. This cleaning brush perfectly fits into the grooves and pulls out all the dust and grime within, making it a must-have for any house.
Turn any regular faucet in your house into a touchless infrared one with this handy little device. It attaches easily to your tap head and even controls the flow of water to ensure you don't end up wasting water. To use, you simply need to hover your hand below it and it will release the jet of water.
This intelligent product has the capability of transforming your house into a smart home. It basically connects all your infrared & RF devices via a single remote control and aligns them with your WiFi. The end result is that you can operate everything in your home including your TV, AC, music system, and so on remotely through your phone.
High concentration levels of smoke or carbon monoxide can be extremely deadly. This smoke and carbon monoxide detector is an absolute must-have for any house. It intelligently detects the presence of smoke or carbon monoxide gas in the house and sets off an alarm. It can even notify you on your phone so you are constantly vigilant even when you aren't home.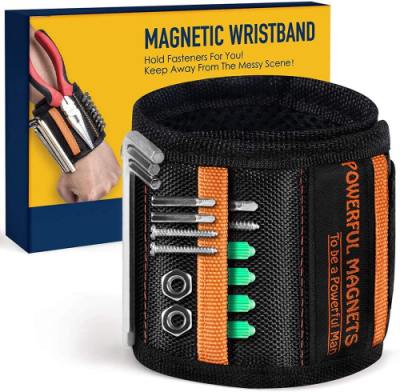 This magnetic wristband is designed with super-strong magnets that are powerful enough to hold a good amount of nails, screws, and even tools while you go about drilling, driving nails, or building something from scratch. It even has 2 pockets designed to hold tools that are not magnetic.
This nifty 2-in-1 device acts as a shower drain stopper, as well as a strainer to keep your hair and other gunk from flowing down the drain and creating a blockage. You simply need to push down on it to block the drain and pull up to release it. The silicone material ensures it doesn't deteriorate or rust and can easily be washed. It can also be used in your kitchen sink. 
With so many devices plugged into televisions and computers these days, the areas around these products can end up looking like a jungle of cables. This handy cable management sleeve is the perfect solution to bring all those hanging wires together and ensure that it looks neat and tidy.
This adhesive tape is a marvelous invention. While it may look like a simple double-sided tape, this acrylic tape in fact comes with a super strong glue that retains its stickiness even after washing. You can use it to mount and hang all kinds of things and the applications are endless. It is reusable and will not damage your walls & surfaces when removed. 
Equipped with a powerful motor, this high-pressure washer sprays a strong jet of water that can deep clean almost any surface. It also comes with a 450-ml detergent dispenser which when attached to the washer, provides soap quickly. It is excellent for cleaning balconies, patios, car, garden furniture, and so on. 
If you are on the lookout for a good hardwood polisher, your search ends here. This efficient product adds a dazzling shine to hardwood floors and even fills in the scratches to add a smooth, even finish. It also leaves behind a protective film on the floors that helps maintain the shine.
Show your wooden furniture some love with this popular spray-on furniture polish. All you need to do is shake and spray it onto your furniture for an even finish. It quickly cleans, shines & protects wooden furniture, and has a lovely scent. 
This tool kit helps you get into the depths of the drainpipe and clean it thoroughly. It comes with five plastic drain snake tools that can easily remove hair and other similar debris from the drain as well as a stainless steel drain relief tool with claws that can be used to capture & remove large materials from the drain.
Protect your outdoor gear, patio furniture, luggage, backpacks, and so on from rain, or moisture with this odorless water shield spray. It protects a variety of devices from water damage. All you need to do is spray it on and it provides long-lasting protection after a single application. It can be used on polyester, cotton, nylon, leather, suede, and more.
Very often, doors in houses end up having gaps between them and the floor. This results in dust and insects entering the house through the gap. The gap also lets air conditioning escape from the room. In such situations, what you need is a door insulator seal like this one that is easy to install and helps bridge gaps easily.
You will never need to navigate your room in the dark thanks to this smart night light. It automatically switches on when it senses motion and offers two adjustable brightness settings. It occupies very little space and is an interesting little gadget you should consider adding to your home.
When you buy things through our links we may earn a commission. Every product is selected independently after intense research by our editors.