The Best Facial Cleansing Brushes For The Ultimate Face Spa
The best face cleansing brushes that Deeply Cleanses your skin.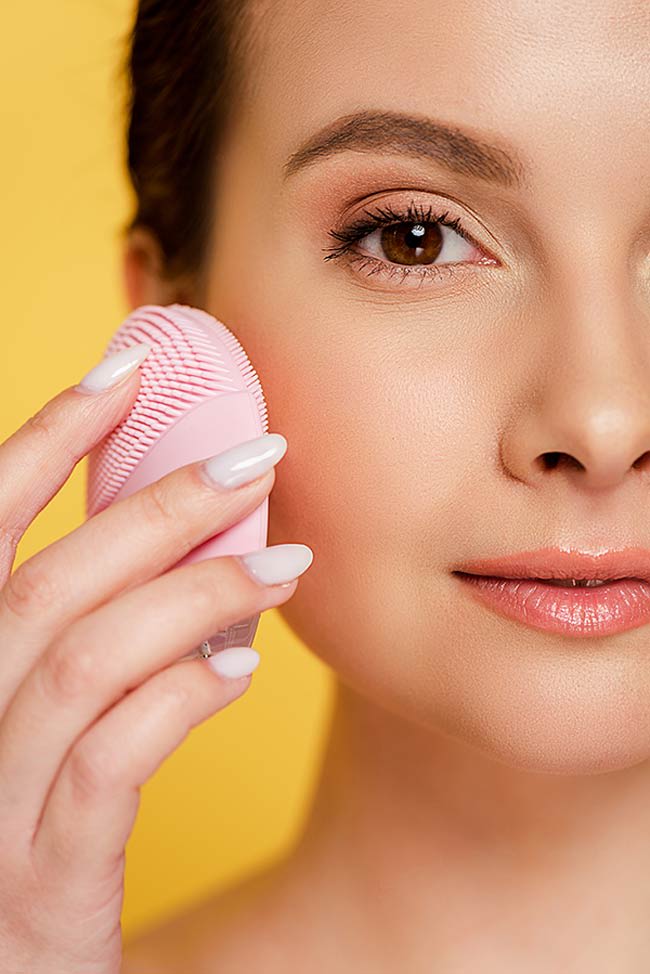 Facial cleansing brushes have been all the rage lately. One of the best things about them is how easily they can be incorporated into your skincare routine.
Whether you are new to the world of skincare or can be branded as a skincare aficionado, facial cleansing brushes come in very handy when you're trying to get rid of the extra dirt, oil, pollution, and makeup from your skin.
Why should you use a facial cleansing brush?
While your hands are too gentle on your face and a washcloth can often be too rough, a facial cleansing brush offers the perfect balance without ever overdoing it. These devices provide the proper level of stimulation to your face while exfoliating it gently yet thoroughly.
Facial cleansing brushes also boost the process of cell regeneration. Use your cleanser with this device to clean your face, and you're bound to witness positive results.
Facial cleansing brushes are often considered to be even better than anti-aging creams as they function in the same way, peeling away the dead skin to give you a natural, youthful glow.
They help in reducing wrinkles, even out your skin tone, stimulate blood circulation, and improve the elasticity of your skin.
After hours of research, we have listed down some of the best facial cleansing brushes you can buy today. Let's take a look at their properties and why you should be opting for them:
1
Olay ProX Advanced Cleansing System
Once you start using the Olay ProX Advanced Cleansing System, you'll stop your regular cleansing, because its cleansing action is four times better than any other cleansing system.
The hydrating effect of your anti-aging cream comes into full play with this facial cleansing brush. It has a 2-speed rotating system which offers gentle exfoliation along with thorough cleansing, and can also be used in the shower as it's water-resistant.
The brush provides your skin with ample hydration, regenerates cells, and plumps up the face to give it a younger look, while also helping in fighting evils like pollution, germs, and free radicals.
It's also very effective in removing hard-to-remove makeup.
2
PMD Clean Pro with Rose Gold
Equipped with 7000 vibrations per minute, the PMD Clean Pro operates at a frequency that helps in firming, lifting, and toning your skin, while also breaking down the oil and dirt from within.
This self-serving facial cleansing brush has an active warmth along with a rechargeable battery that lasts for 150 to 180 minutes. Its gentle bristles make this waterproof and antibacterial device with four modes suitable for every skin type, with the ergonomic device created in a way such that replacement heads are not required.
3
Proactiv+ Deep Cleansing Brush
Get ready to have your pores decongested with the Proactiv+ Deep Cleansing Brush, which is not only doctor-developed, but is also cordless, portable, and water-resistant.
With a dual-speed brush that provides a constant 360-degree rotation, it contains two brush head attachments and is the first of its kind from the brand to provide a more in-depth and more efficient cleansing routine.
It shrinks your pores and keeps them clean and exfoliates the skin giving it a smoother, softer, and more radiant glow. The gentle mechanism makes it effective even on acne-prone skin.
4
Foreo Luna 2 Anti-Aging Facial Massager
A brand that has become the cult favorite for facial cleansing massagers, the Foreo Luna 2 Anti-Aging Facial Massager is yet another revelation that is available for all skin types.
This revolutionary product comes with both anti-wrinkle and facial cleansing properties that not only helps in reducing the appearance of blemishes but also help in the anti-aging process.
It unclogs your pores to remove all the makeup residue, helps in gently exfoliating the dead skin cells, and also removes 99.5% of oil and dirt that can otherwise contribute toward breakouts and acne.
The reverse side of the device has pulsations of a lower frequency that softly massage your face, reducing the appearance of fine lines around your mouth and eyes, making your skin firmer and plumper.
5
Vanity Planet Facial Cleansing Brush
Imagine a facial cleansing brush that could perform three different functions; well, that's exactly what the Vanity Planet Facial Cleansing Brush does.
The dual-speed setting allows you to control the speed with which you would like the brush to clean your face, thereby removing all the residual makeup, dirt, debris, and so much more.
It contains three different brushes to tend to your skincare needs. The first one is a daily cleansing brush containing soft nylon bristles that aid in getting rid of the dead skin cells, the second brush is an exfoliating brush that deeply cleanses your face and eradicates the impurities even from the lowest layers of your skin.
The third brush is a silicone brush made with flexible bristles that work best on sensitive and dry skin and is extremely effective as an exfoliating agent on all skin types.
6
Braun Face 810 2-in-1 Facial Epilating & Cleansing System
Hailed as the world's first cleansing brush system with a facial epilator, this cleansing brush from Braun gives you a glow of natural radiance.
This facial cleansing brush cleanses your skin from deep within the pores. It gently restores the glow in your skin by taking away all the dirt and impurities caused by makeup and pollution.
In addition to cleansing your skin, it also allows for your moisturizers to settle well into your skin. The micro-oscillations present in the brush work six times better in comparison to manual cleansing, thereby providing gentle exfoliation and refining your skin.
The head of this brush is extra slim and has ten micro-openings that have the ability to capture even the finest hairs.
7
BORIM - Waterproof Silicone Facial Cleansing Brush
Created using waterproof silicone, this facial cleansing brush from Borim provides optimal cleansing for your face that is much more effective than when you use your hands alone.
This cleansing brush is not only soft on your face, but also shows positive results once the product is used regularly for two minutes every morning and night.
The vibration technology used in the creation of this brush boosts the blood flow to your skin, reducing the sizes of your pores and improving the texture of your skin. As opposed to other devices, this one doesn't require the replacement of the brush heads.
8
Remington FC1000 Reveal Facial Cleansing Brush
The Remington FC1000 Reveal Facial Cleansing Brush allows for your skincare routine to be customized as per your needs.
It features three brush heads for you to choose from, namely normal, sensitive, and massage, that can be used with three cleaning speeds available, which are normal, powerful, and delicate.
It's the availability of so many options that makes this brush perfect for all skin types and also ten times more effective in comparison to manual cleansing.
The brush heads also feature advanced dual-action – the rotation provides thorough cleansing, and the vibrations help with gentle exfoliation.
The brush is waterproof, rechargeable, and has anti-microbial bristles that keep your skin fresh every day.
9
Fancii 7 in 1 Waterproof Electric Facial & Body Cleansing Brush Exfoliating Kit
Equipped with six brush heads that also includes a silicone face brush, and a detachable handle, this set helps you with multiple functions, including the purpose of facial cleansing.
The advanced microdermabrasion cleansing system reduces your wrinkles and fine lines, gets rid of dirt, makeup, and oil from your pores, renews the texture of your skin, and also helps in the prevention of acne and blackheads.
It has a 2-speed setting along with a 360° rotary spin, thereby allowing you to choose between gentle exfoliation and deep cleansing. The brush is water-resistant, and the natural bristles are super-soft on your skin.
10
Magnitone XOXO SoftTouch Cleansing Brush
The micro-sonic technology is one of the many beneficial features of the Magnitone XOXO SoftTouch Cleansing Brush.
Designed using Puro Silicone that is naturally antibacterial, this soft facial cleansing brush comes with three different zones and is suitable for all skin types.
The 8000 micro-pulsations per minute cleanse your skin deeply and thoroughly, providing gentle exfoliation while also unclogging your pores.
The ultra-soft material helps in balancing the tone of your skin and also controls breakouts, making it perfect for sensitive skin.
When you buy things through our links we may earn a commission. Every product is selected independently after intense research by our editors.