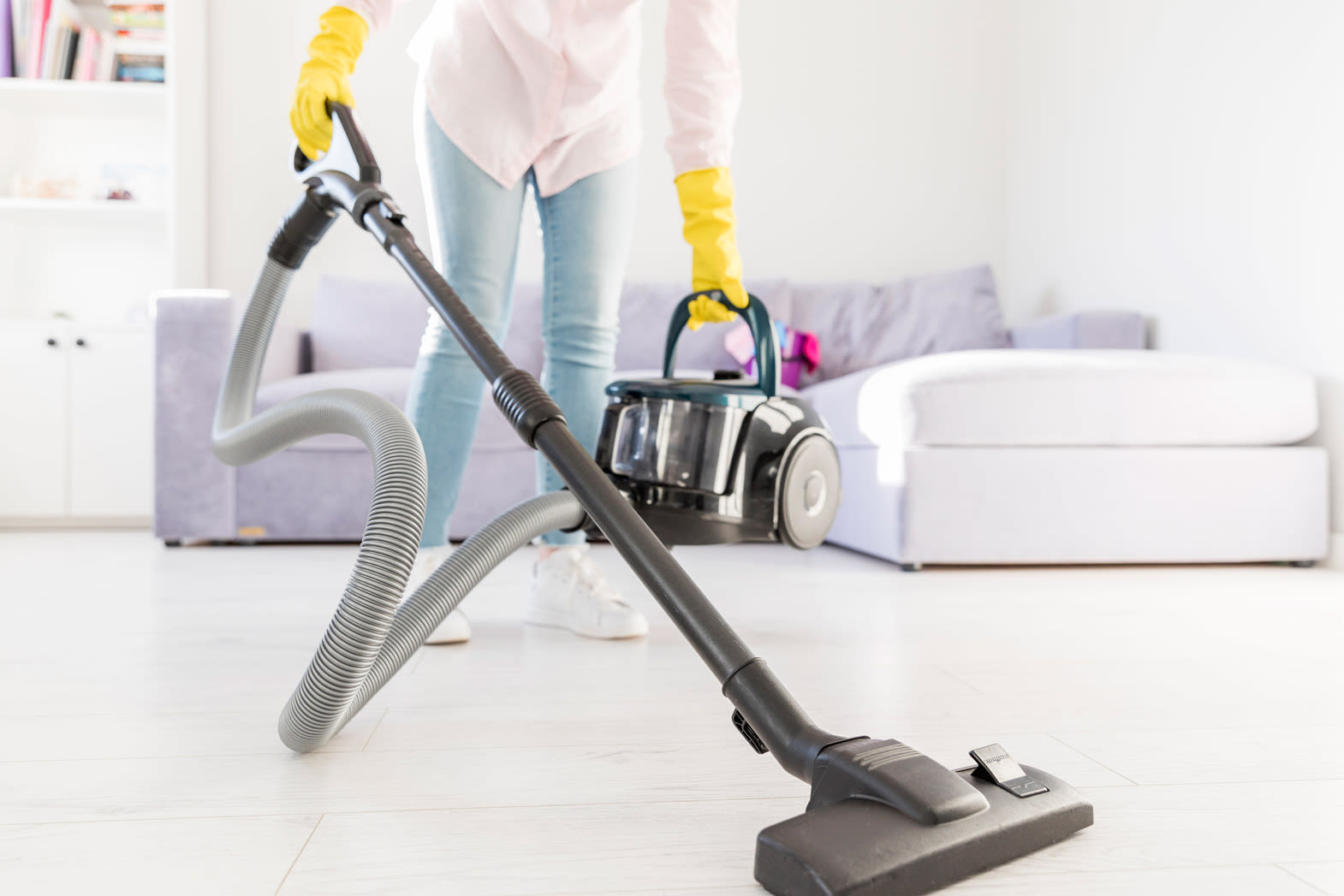 A vacuum cleaner is an essential household appliance and buying a vacuum cleaner needs a bit of planning. So when your current vacuum cleaner breaks down or you've decided to get a new one anyway, calm down and refrain from diving onto the first value deal you spot for its replacement.
This is a wonderful opportunity to buy a fancy, new-age vacuum cleaner that suits all your needs!
There are a variety of new brands and models of vacuum cleaners that are currently introduced into the UAE and Middle Eastern markets each year. They keep getting lighter, more powerful, and easier to manoeuvre. The latest models even include self-working, automated machines.
With so many choices available, how can you choose the right model to buy?
Here are five vital questions you could ask yourself before buying a vacuum cleaner:
1

What type of flooring do you have?

Many homes and offices in the UAE and Saudi Arabia tend to present a mix of tiled, marbled, or hardwood flooring with carpeted areas.

Though most modern vacuum cleaners work equally well on both flooring types, if your need is primarily for large carpeted areas, its best to consider the regular tried and tested Upright Vacuum Cleaner such as the Bissell CrossWave 3-in-1 Multi-Surface Upright Vacuum Cleaner or even the Hoover Brush and Wash Platinum Carpet Cleaner.

Although the Upright Vacuum Cleaners are the usual push and pull kind of vacuum cleaner and tend to be heavy, the modern versions of these devices come with all kinds of features to make cleaning a breeze.

For floors with hard surfaces, upright, canister, or even stick vacuum cleaners work best. These dust busters are famous for their ability to get into difficult spots and draw out dirt from every corner using their super suction skills.
Canister vacuum cleaners such as the Philips PowerPro Active Bagless Vacuum Cleaner, the Black & Decker VM2825-B5 Vacuum Cleaner come with a basic set of brushes and tools.
Depending on the model, some canister vacuum cleaners are also equipped with advanced settings such as various degrees of suction, allergen removal technology, and dirt sensors. They work on tiles, rugs, marble…. you name it!
2

Do you or your family suffer from allergies?

One easy categorization of vacuum cleaners splits them in two – The ones with bags and the other being bagless.
Though you may be quick to jump at the convenience of a bagless vacuum cleaner, there's more to this matter than meets the eye!
Bagless vacuum cleaners may seem like less work than vacuum cleaners with removable bags. However, there are certain conditions in which bagged vacuum cleaners such as the Miele Complete C3 vacuum cleaner may prove to be more beneficial to you and your loved ones. These conditions revolve around allergens and you or your family's allergic tendencies, especially to sand, dust or dirt particles.
Though bagless vacuum cleaners don't require the regular changing of bags, many of them have filters that need to be cleaned or changed. Secondly, though there's no bag, a bin or cup needs to be emptied when full.
Replacing the entire bag in a bagged machine is more hygienic and better at completely getting rid of all dust particles than emptying the cup of a bagless machine. Often remnants of dust escape the cup and go back into the machine.
This dust can find its way into your home and carpet fibres. It can trigger allergic reactions in sensitive members of your family.
That being said, certain models of bagless vacuum cleaners such as the Philips Power Pro Bagless Vacuum Cleaner and Miele complete C3 Allergy powerline are specifically designed and equipped to capture dust particles and allergens for maximum hygiene.
3

What is your budget for a new vacuum cleaner?

Vacuum cleaners are utility appliances that should be considered according to functionality. A more expensive model may not necessarily be the one that suits your family's needs. On the other hand, you may realize that you do need a more expensive model to perform all the cleaning!
We have already mentioned Upright and Canister vacuum cleaners and their specialities. Added to these are Stick, Hand-held, and Robotic vacuum cleaners.
Stick vacuum cleaners such as the Dyson V11 Absolute Cordless Vacuum Cleaner, the Hoover Blade Upright Cordless Vacuum Cleaner or the Black & Decker cordless Vacuum Cleaner, depending on the model, are cordless and easily manoeuvred due to their lightweight and compact size. These popular devices are ideal for spot cleaning as they can get into small nooks and gaps that regular canister models are unable to access.
Upright and Canister vacuum cleaners will get you the best results. Hand-held vacuum cleaners such as the Black & Decker Pivot Dustbuster PV1420L or the Black & Decker Dustbuster DVJ315J-B5 are cheap but nifty little things that serve well as secondary cleaners for specific short and quick cleaning spurts.
The most modern and popular range of vacuum cleaners in the UAE & Middle Eastern market today are the Robotic vacuum cleaners such as the Eufy RoboVac 30C or the Ecovacs DEEBOT OZMO 920. They work well on uncluttered floors without carpet or rugs. The more advanced the model, the better it cleans. However, Robotic vacuum cleaners are unable to apply pressure for high or accumulated dust spots.
4

How much time and effort can you spare to maintain your vacuum cleaner?

When it comes to maintaining your vacuum cleaner, various components in the machine require the occasional scrub, change, or check.

You may choose a model that suits your time, effort, and budget.

As mentioned earlier, the bagged vacuum cleaner and the bagless one differ. One needs a regular bag change while the other has a cup that needs emptying, though not as often as a bag change. Almost every new vacuum cleaner in the market has a filter that requires a thorough cleaning. No matter which vacuum cleaner you get, you will need to change its filter regularly for the best results.

This is especially important if your model is fitted with a HEPA filter.
Models with HEPA filters act as air purifiers and help keep the air in the house clean and dust-free. If the HEPA filter is not clean, it will not do its job well enough.
Apart from these, all vacuum cleaners need their brush rolls, belts, and hoses cleaned and checked.
5

Do you have pets?

Those of you who have pets will completely understand why this point has been included. But did you know that some vacuum cleaners are more effective in cleaning animal fur and hair from the carpet and upholstery?
Excessive pet hair can get tangled up in the brush roll and jam your machines.
Depending on the model, powerful upright, cordless stick, canister, and even a few hand-held vacuum cleaners are designed to draw in all the pets hair and not get jammed easily.
There are numerous varieties and brands of vacuum cleaners under the pet hair category such as the Bissell Crosswave Cordless Pet Upright Vacuum Cleaner, that you'll be glad to check out if you've been battling furry wars!
Summary
Hence, buying a vacuum cleaner in the UAE, Saudi Arabia or Middle Eastern Markets need not be complicated.
We've simplified it for you with five questions that cover the most critical aspects of choosing a new appliance. Your answers to these will point you in the direction of the perfect vacuum cleaner for your requirements.
With the world moving towards a cleaner and better-sanitized environment, the importance of cleaning appliances has increased. This guide will not only help you find a replacement but also encourage you to upgrade your personal environment to a cleaner and healthier one for you and your family.
When you buy things through our links we may earn a commission. Every product is selected independently after intense research by our editors.